PPEcel
cope and seethe
★★★★★
Joined

Oct 1, 2018
Posts

29,056
Earlier this week, U.S. Secretary of Defense Lloyd Austin released the following memo: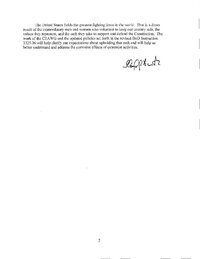 We believe only a very few violate this oath by participating in extremist activities, but even the actions of a few can have an outsized impact on unit cohesion, morale and readiness - and the physical harm some of these activities can engender can undermine the safety of our people. We owe the men and women of the Department of Defense an environment free of extremist activities, and we owe our country a military that reflects the founding values of our democracy.
I was wondering whether the Pentagon would be soy enough to consider the blackpill to be "extremism", JFL, but it looks like the DOD instruction answered my question. Under the new guidelines, "advocating widespread discrimination on the basis of sex" is "extremism".
Full DOD instruction here:
Last edited: