PPEcel
Director of Counter-Counter-Radicalization
★★★★★
Joined

Oct 1, 2018
Posts

28,729
Online

275d 23h 7m
View: https://www.reddit.com/r/IncelTear/comments/y8d6ul/incel_ironically_highlights_self_help_for_incels/
Yeah, so a few days ago I wrote
this letter
up because it was pretty fucking funny to write. Unsurprisingly, the deranged SJWs on Reddit did not see it the same way. I'm just going to go over some of their comments for your viewing pleasure.
First, there's this femoid who is "concerned" about my education or employment.

Funny how this doesn't work the other way around. Can a radical feminist ever apply the law fairly and equally to men? I highly doubt it, of course. In any case, it's disingenuous to pretend that femoids want the law to be applied fairly and equally. What left-wing feminists want is special treatment by the law, a reading of the law that subjugates men. They want to chip away at due process in colleges and universities, upturn decades of First Amendment precedent and regulate hate speech, and adopt a freewheeling interpretation of the Fourteenth Amendment that protects "abortion rights". None of that is equality; that's entitlement.
Then there's this u/Bimaac77, who is absolutely salivating over the idea of "prison justice" for Nicky Cruz.

Yikes, sweaty. Why would you wish harm on another human being? Please seek therapy.
Also, do know that Nicky has plenty of female fans and penpals to keep him company in prison. In fact, a few days ago I noticed of Nicky's admirers in a Facebook group, who still regularly sends him postcards. Protective custody won't be that isolating for him.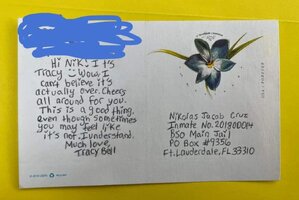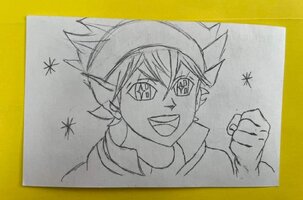 A postcard recently sent to Nicky.
And how could we forget u/canvasshoes2, who claims that I can't "read for content" and "miss huge obvious meanings in what is actually stated by people." She goes on to point out that people have the right to criticize the decisions of judges. Fair enough. But the irony of her comment, of course, is the fact that it was the jury, not the judge, who made the decision to spare Cruz's life. Perhaps some reading comprehension skills are lacking on her part.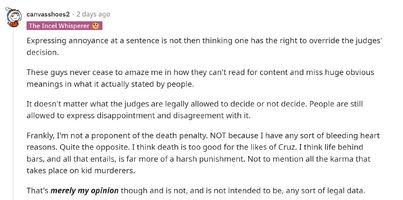 Are people allowed to be upset over what juries decide? Sure. But why shouldn't we be able to criticize them? Why shouldn't we be able to point out that they were stupid for not taking Nicky's offer of a plea deal? Because their kids died? Oh, please. Get over it.
Oh, and last but not least, the OP of the Reddit post wrote a 1,000-word deranged screed that ended up being shadowbanned anyway.
Truly amazing. Here is it for your viewing pleasure (I was able to recover it via her profile):
They're really upset, aren't they?
______________________________________________________________
@HiddenUzer
@Incelius Savage
@universallyabhorred
@Young Werther
@AlexanderTheGreat11
@nystagmuscel
@PointOfNoReturn
@Shahist Persian
@Saint Cho
@Indari
@Hoppipolla
@Fat Link
@JayGoptri
@war_with_myself
@totalcel
@InMemoriam
@ballistictesticles
@Speed
@Glerforpus
@ldargoblin
@AfricanIncel77
@Nikalas
@decembrist_kirillov
@SlayerSlayer
@Puppeter
@Lv99_BixNood
@Kevin2
@AsgardTheFatcel
@dungeondragon
@My Name Jeff
@iamjustdreaming
@TheNEET
@rottingricecel
@phenor
@Heretic
@imanuglysob
@PLA1092
@Emba
@Ahnfeltia
@Caesercel
@VAREN
@Doctor Manhattan
@Rice Rice Baby
@Monke
@RuudVanNistelrooy
@MiSKiRaT
@manlet ricel
@Noseman
@LDARbeforeROPE
@veqdera
@AbsolutelyBrutal
@Oskar Dirlewanger
@
Last edited: