Joined

Oct 1, 2018
Posts

26,918
Online

251d 17h 45m
Background
On the evening of May 23rd, 2014, 22-year-old Elliot Rodger walked into a Starbucks in Isla Vista, California and purchased a triple vanilla latte with a Chase debit card.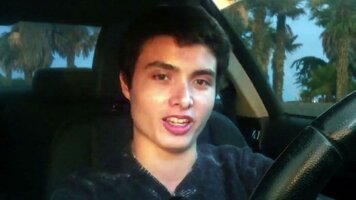 That was no ordinary day. Earlier that day, he had murdered his roommates in his apartment at 6598 Seville Road with an 8¾-inch fixed-blade hunting knife. The bodies of Weihan Wang (20), Chen Hong (20), and George Chen (19)—all students at the University of California, Santa Barbara—would later be found mutilated with a combined 134 stab wounds and 46 incision wounds.
Less than two hours after his last-ever latte, Rodger emailed a 140-page manifesto titled
My Twisted World
to his parents and a local news station in Southern California. This was followed by a seven-minute YouTube video titled
Elliot Rodger's Retribution
, in which he described his motive for his actions:
You girls have never been attracted to me. I don't know why you girls aren't attracted to me but I will punish you all for it. It's an injustice, a crime because I don't know what you don't see in me, I'm the perfect guy and yet you throw yourselves at all these obnoxious men instead of me, the supreme gentleman. I will punish all of you for it.
I take great pleasure in slaughtering all of you…All those popular kids who live such lives of hedonistic pleasure while I've had to rot in loneliness all these years. They all look down upon me every time I tried to join them, they've all treated me like a mouse. Well, now I will be a god compared to you, you will all be animals, you are animals and I will slaughter you like animals.
Sometime between 9:15 to 9:25 pm, Rodger drove his black BMW 328i coupe to the Alpha Phi sorority house at 840 Embarcadero Del Norte. He knocked on the door of the sorority for several minutes, to no avail; most of their residents were away at the time. Enraged, Rodger returned to his BMW. It was then he decided to shoot at three femoids who happened to be walking outside, all of whom were members of the Delta Delta Delta sorority. In the months preceding the incident, Rodger had legally purchased two Sig Sauer P226 semi-automatic handguns, 12 magazines, and 480 rounds of 9mm Winchester PDX1 ammunition.
Katherine Cooper (22) suffered a total of eight gunshot wounds. One bullet entered her left eye and exited through her skull. Another travelled through her left lung and spine before stopping in her right bicep. A third bullet entered her right armpit, passed through her right lung, and was lodged in her spine. Cooper died instantly. Veronica Weiss (19) was shot seven times, with the most significant gunshot wound coming from a bullet that entered her side and penetrated both her lungs and her heart. Weiss did not die instantly; for several minutes, she struggled to breathe and made limited movements as she laid on the ground. The third femoid survived her injuries.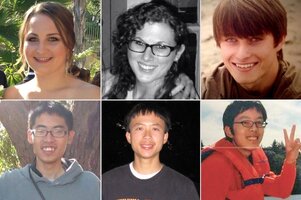 (Left to right) Top: Veronica Weiss, Katherine Cooper, Christopher Michael-Martinez
Bottom: Weihan Wang, Chen Hong, George Chen
Rodger drove off in his BMW after shooting the three femoids. Approximately two minutes later, he fired one round into Coffee Collaborative at 6560 Pardall Road, but as it was 9 pm, the cafe was vacant. Nearby pedestrians who heard the gunshot filed into the IV Deli Mart at 6549 Pardall Road for safety. Soon after, Rodger fired six rounds into the deli, one of which struck Christopher Michael-Martinez (20), his sixth and last murder victim. The bullet entered Michael-Martinez's chest and penetrated his liver and his heart.
Over the next several minutes, Rodger drove along the scenic neighborhood of Isla Vista, striking seven pedestrians and bicyclists with his BMW and injuring six more with gunfire. All 13 survived. On Sabado Tarde Street, Rodger exchanged fire with four officers from the Santa Barbara County Sheriff's Office. Issued with Heckler & Koch .40-caliber semi-automatic handguns, the officers fired a total of 28 rounds at Rodger, one of which grazed his hip. Rodger sped away. Around 9:36 pm, he collided with a parked vehicle outside 6594 Del Playa Drive. With his BMW severely damaged and on the sidewalk, Rodger took his own life via a self-inflicted gunshot wound; the bullet passed from the right side of his skull to his left.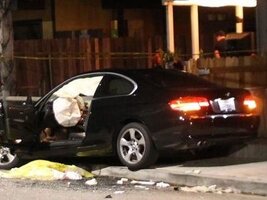 Elliot Rodger and his BMW
Commentary
To say that Rodger continues to be a controversial figure inside and outside the incel community would be an understatement.
First and foremost, much criticism has been directed at the lackluster results of his "Day of Retribution". Though he wrote in
My Twisted World
that he would "slaughter every single [member of the Alpha Phi sorority] with [his] guns and knives," (p. 132) no member of Alpha Phi was ever physically harmed in the incident. Indeed, his high score of six kills pales in comparison to that of Cho Seung-Hui (32 kills), Nikolas Cruz (17 kills), Marc Lépine (14 kills), Alex Minassian (11 kills), and Christopher Harper-Mercer (9 kills). Besides, Rodger ended up killing twice as many men than he did femoids—and three of those four men were not the Chads who bullied and mogged him, but ricecels.
Others question whether he was an incel at all. It is plausible that Rodger was a failed normie not destined for loneliness. There is certainly some evidence to suggest that he was a so-called "volcel" with unusually high standards, not befitting his status as a mixed-race manlet. In his manifesto, Rodger repeatedly fantasizes about tall, blonde Stacies:
One time, as I was shopping at the Calvin Klein store in Camarillo, I saw such a sexy-looking blonde girl with perfectly tanned skin. She looked so beautiful and sexy that I had an erection instantly. Oh, the heavenly things I wanted to do to her… (p. 95)
She was tall, blonde, and sexy. She would have towered over me in height, and her boyfriend of course towered over her. They were both wearing beach gear, and the girl was in her bikini, showing off to everyone her sensual, erection-causing body. Her blonde hair was wet from swimming in the ocean, and it only made her look more arousing. (p. 111)
And oddly, Rodger considered himself attractive and superior to many other men. In his very last message to PUAHate, he wrote:
You're all jealous of my 10/10 pretty-boy face. This site is full of stupid, disgusting, mentally ill degenerates who take pleasure in putting down others. That is all I have to say on here. Goodbye.
Likewise, in
My Twisted World
, Rodger repeatedly places himself above other men, particularly ethnicels and ethnic normies:
How could an inferior, ugly black boy be able to get a white girl and not me? I am beautiful, and I am half white myself. I am descended from British aristocracy. He is descended from slaves. I deserve it more. (p. 84)
The ugly pig kept acting as if girls thought he was more attractive than me. Hah! I am a beautiful, magnificent gentleman and he is a lowclass, pig-faced thug. I had enough of his cocksure attitude, and I started to call him exactly what he was. I tried to insult him as much as I could, telling him how superior I am to him, and saying that he was lowclass. (p. 90)
I always felt as if white girls thought less of me because I was half-Asian, but then I see this white girl at the party talking to a full-blooded Asian. I never had that kind of attention from a white girl! And white girls are the only girls I'm attracted to, especially the blondes. How could an ugly Asian attract the attention of a white girl, while a beautiful Eurasian like myself never had any attention from them? (p. 121)
Needless to say, this is a thought process completely antithetical to contemporary (post-2017) inceldom. One widely-accepted element of the blackpill is that incels occupy a below-average and disprivileged position on the genetic hierarchy. But Rodger believed the opposite: he thought himself someone who was, or ought to be, a Chad. Perhaps he did not seriously consider himself a Chad, and had merely overdosed on copium. Either way, this exemplifies in part the ideological progress that the blackpill (and its precursor, looks theory) has made in the intervening years.
Some or all of these criticisms of Elliot Rodger are valid. The preceding paragraphs will upset some of his hardcore fanboys, I'm sure. But I also must acknowledge the lasting influence of his autobiography-cum-manifesto. Though many may not share his policy prescriptions, Rodger spoke of a general sense of ostracism, loneliness, and resentment that many young men can relate to.
According to Michel Foucault, discourses are "practices that systematically form the objects of which they speak". In other words, discourses are not mere speech; discursive logic is a pattern of organizing knowledge which consequently structures social change. Structured by power relations within a society, the Foucauldian understanding of discourse reflects how discourse is legitimized within the subjectivity of its socio-political context. Whether you accept the poststructuralist babble as an episteme, here's my point:
My Twisted World
was not only shaped by Rodger's own unique lived experiences and his time on PUAHate, it in turn also shaped the blackpill as we know it today.
Whether you believe he was a failed normie or an incel, a rational psychopath or clinically insane, Rodger's manifesto refracted broader discourses surrounding race, gender, looks, and sex. The stereotype, for example, that East Asian men are demasculinized and effeminate and that South Asian men are animalistic and hypersexual, is not exclusive to inceldom. Nor are incels unique in framing tall, blonde, snownigger femoids as the normative standard of feminine sexuality.
And notably, Rodger was not the first and will not be last to consider horrific violence as a legitimate means to address personal grievances or to affect social change. Only time will tell how this develops.
Conclusion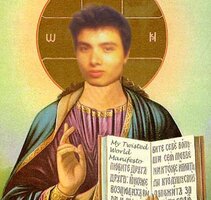 Undoubtedly, the most influential parts of Rodger's legacy are defined less by the gratuitous violence he displayed that day, and more so by his discourse and the audience that read them. So if there is one takeaway from the killings in Isla Vista eight years ago, it is that
My Twisted World
illustrates the power and influence of speech, however benign or malignant you consider its viewpoint. And as a corollary, if there is a right to speak, there is an equal and apposite right to listen, to receive information and ideas.
It is all too common for misguided individuals to suggest that some information and ideas are too noxious to be propagated and heard. Because speech is powerful, the political left argues, the state is justified to act as censor, to place its oppressive thumb on the scales of the marketplace of ideas. It is for this reason that the governments of Australia and New Zealand, for example, have taken it upon themselves to proscribe even the mere possession of Brenton Tarrant's or Payton Gendron's manifestos.
This is a dangerous confusion. As a matter of liberalism and individual autonomy, it is precisely because speech, ideas, and information are powerful that they ought to be shielded from, not guided by, government regulation. Judge Frank Easterbrook pointed out that:
"Racial bigotry, anti-semitism, violence on television, reporters' biases — these and many more influence the culture and shape our socialization. None is directly answerable by more speech, unless that speech too finds its place in the popular culture. Yet all is protected as speech, however insidious. Any other answer leaves the government in control of all of the institutions of culture, the great censor and director of which thoughts are good for us." American Booksellers Ass'n v. Hudnut, 771 F.2d 323, 330 (7th Cir. 1985).
Certainly, the belief that femoids are inferior and deserve to be disenfranchised, raped, enslaved, or even exterminated offends the delicate sensibilities of normies. ("The first strike against women will be to quarantine all of them in concentration camps…,"
My Twisted World
, p. 136.) But as the U.S. Supreme Court noted, categories of speech should not be required to pass a balancing test of social benefits and harms to be protected, as
"The First Amendment itself reflects a judgment by the American people that the benefits of its restrictions on the Government outweigh the costs. Our Constitution forecloses any attempt to revise that judgment simply on the basis that some speech is not worth it." United States v. Stevens, 559 U.S. 460, 470 (2010).
Reflecting on the events in Isla Vista eight years ago, I cannot help but conclude that because of the power of speech, Americans are immensely fortunate. It is a moral benefit to live in a country where the ability to receive information and ideas is a fundamental right backed by a powerful and independent judiciary—even if those ideas are partially structured by Elliot Rodger's discursive practices. Let's hope that the United States' political institutions are sufficiently resilient to defend themselves against the progressive orthodoxy.
Last edited: