Joined

May 20, 2018
Posts

9,635
Online

46d 20h 57m
Uncomfortable philosophizing that might get me warned time!
This is a question I ask myself when looking at lewds of Tanya Degurechaff.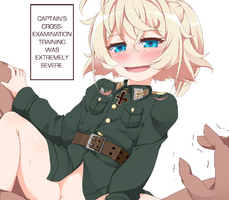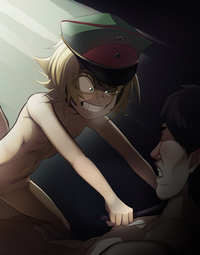 Though maybe part of the weirdness for me is I was enjoying lewds of her before I actually knew much about the show's plot or who she was (ie soul of a Japanese salaryman hit by a train reincarnated as a loli with full memories of past life)
It still seems a lot straighter to want to fuck Tanya than it does someone in a body with DNA that's XY who gets their genitals surgically re-arranged.
Prior to Youjo Senki this concept was explored in Heinlein's book IWFNE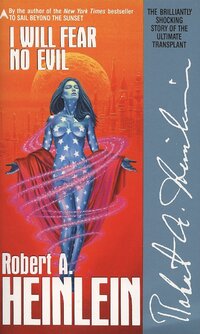 in that case it bothers me more... it's hard to put my finger on why though...
I guess in the case of Tanya it's more spiritual rebirth into a body that didn't belong to anyone... whereas in Heinlein's novel it's the brain of an elderly man (Johann Smith) transplanted into the body of a woman (Eunice Branca) who died.
Old-man soul seems grosser in girl body than young-man soul, and also that sense of appropriation/necrophilia due to Eunice's brain injury.
The "Johann in Eunice" situation differs from IRL trannies in that Johann actually didn't identify as female (didn't even want a female body, wanted to be put in a male body when he died but that was the only one available or he'd die) but gradually begins to act like a foid fucking the local chads and shit.
Maybe part of why Tanya works better than Eunice is that Tanya is virginal (Eunice was already an experienced carousel rider) so the value of that virginity distracts from the trannyesque nature.
Also technically speaking, while the DNA of Eunice's body is XX, the brain put inside that body is XY: it still has Johann's DNA! Whereas Tanya is complete 100% reborn so her brain is XX and really all it is is a girl who is born with the memories of having been a man in a past life.
It would probably feel gay fucking a guy even if he was a reincarnated foid with memories of a past life as a foid, because those female memories would not eclipse the reality of the present body being male.
So in Tanya's case, her body being female eclipses having past-life memories as a guy.
Also maybe part of it is how Tanya isn't focused on getting sex or orbiting Chad (just wants to become the next Hitler and wipe out the enemy) which enhances the virginal mystique about her.
Also I think in Tanya's case she's 9-13 years old which means she's spent many years growing up as a girl (as girly as you grow up in a military dictatorship) so it's easier to think of Tanya as a girl due to effectively reliving life and reforming.
In the case of Johann it just creeped me out (would not want to fuck Johann-brain-Eunice-body... squick) because it was so recent... I can't remember the exact timeline but I'm pretty sure it was a lot less than nine years before "Johannice" is marrying lawyer (Jake Solomon) and Eunice's widower (Joe Branca)
I don't really know if I could stomach that... like if the girl you're with has to have the memories of a guy, Tanya is more ideal than Eunice because:
1) actually a biological female XX brain not XY transplanted brain
2) virgin not roastie
3) has spent more time as a girl
4) guy in past life was more relatable: a poor incel guy in his 30s not some 90yo Mr. Burns millionaire
5) body is new, not a rescuscitated corpse
6) focus of life is warfare, not learning to live as a woman
With Tanya it's like "I'm accidentally a woman, let's kill shit together and fuck because we're horny" so it's less creepy than Johann".
Reading FearNoEvil it felt like I was being indoctrinated, like questioning gender was the whole point of the story, felt artifiicial. Tanya doesn't feel that way because the central aspect is warfare.
I guess another thing to think about is Thirteenth Doctor... at first that was weird because it was like "person who was previously twelve different guys is suddenly a lady" but then they pull out that Timeless Child plot device where before all those dudes she was a negress...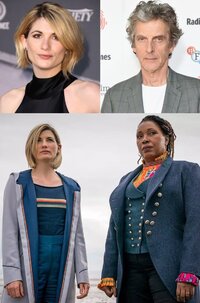 so if The Doctor was born as a girl but then had to live in a male body
twelve
thirteen times before getting a vagina again... do we think of Jodie Whitaker's char as being FTM or MTF or perhaps FTMTMTMTMTMTMF ?
If there were ever an argument for a "non-binary" or "agender" or "genderqueer" individual it'd probably be The Doctor, it's confusing.
Tanya seems more desirable than The Doctor in terms of being a girl. I don't think that's purely due to being a cute virginal loli, but also something to d owith the timeframe thing: Tanya has lived NINE YEARS as a girl, whereas Jodie's char seems to have transformed recently (even though Timey Wimey stuff has them spending decades off-camera)
Another part just might be presentation: in Heinlein's novel you spend many chapters hearing from Johann as a guy, so that's how you think of Johann even after the transition. Same thing with The Doctor.
You don't get that with Tanya because it doesn't spend many episodes on the protagonist's life as a dude: it kills him off in SECONDS and then spends the rest of the series as a girl, so naturally you're more prone to thinking of Tanya as girl based on presentation.