PPEcel
Director of Counter-Counter-Radicalization
★★★★★
Joined

Oct 1, 2018
Posts

28,729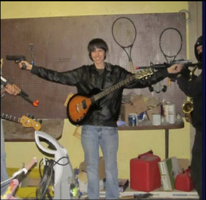 David Kaufman
Roughly one hour ago, David Kaufman, 28, was sentenced to 30 months' imprisonment in the U.S. District Court for the Southern District of New York. Accounting for time served, Kaufman will released sometime in January 2023.
The sentence that Kaufman received is identical to the U.S. Probation Office's recommendation and is on the low end of the Federal Sentencing Guidelines range, which recommended a sentence of between 30 to 37' months imprisonment.
UPDATE (3:00 pm ET):
The U.S. Attorney's Office released a statement on Kaufman's sentence.
U.S. Attorney Damian Williams said: "David Kaufman, a self-described 'Incel,' or 'Involuntary Celibate,' expressed his hatred of women by terrorizing and harassing his victims though threats of violence. The Court's sentence sends a clear message to the public that perpetrators of violence against women will be held accountable for their crimes."
View: https://twitter.com/SDNYnews/status/1514679012047654916
From 2019 to 2020, Kaufman repeatedly sent rape, murder, and bomb threats to multiple normies and proclaimed his support for Elliot Rodger. He was arrested by the FBI in September 2020. For more details about his stalking and legal proceedings, read my prior thread on this topic: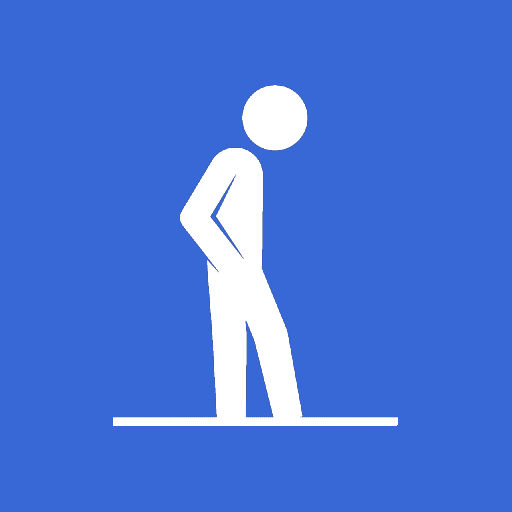 Kaufman posing with a banjo and two guns David Kaufman, 28, will be sentenced at 11:45 am this Thursday (April 14th, 2022) by U.S. District Judge Nelson S. Román at the Charles L. Brieant Jr. Federal Building in White Plains, New York. Here's where the U.S. Attorney's Office and Kaufman's...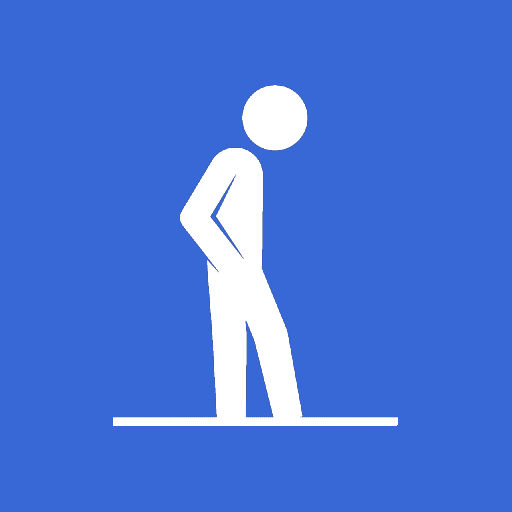 incels.is
Kaufman's counsel, Michael Burke, requested a lenient 20-month sentence such that Kaufman could receive treatment for his mental health issues. But opposing Burke's request, the Government, represented by Assistant United States Attorney Jane Kim, argued that a harsh 37-month sentence was necessary to "send a message to the Incel movement".
Three of Kaufman's victims also spoke at the sentencing hearing. Persons-1 and -2, whose identities are Christina Menfi and Brandon Joseph Malave respectively, say they were harmed by his year-long campaign of stalking, with Menfi claiming that she now suffers from depression and PTSD and Malave noting that he is less trusting of others.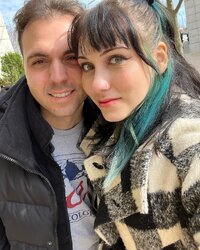 Menfi and Malave
Menfi can also be found tweeting about her wardrobe choices for the sentencing hearing itself:
View: https://twitter.com/ChrissyMenfi/status/1514623741292077060
Person-3, who is one of Kaufman's neighbors, say that her family was terrified and "lived in a constant state of fear" after receiving Kaufman's handwritten note in her mailbox, and said she felt distressed when she learned about Kaufman's incel "misogyny".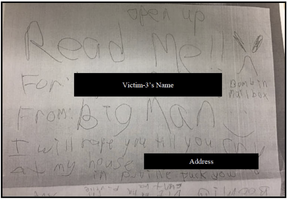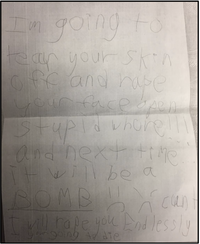 The note that Person-3 received
All three asked the judge impose the maximum sentence, which the judge did not do.
Kaufman also spoke at the hearing. He apologized for his conduct and cried whilst making his statement. Kaufman also agreed to pay approximately $1,400 in restitution to Persons-1, -2, and -3.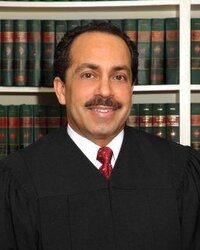 U.S. District Judge Nelson S. Román (pictured here) handed down the moderate 30-month sentence, and will recommend to the Federal Bureau of Prisons that Kaufman serve his time in FMC Devens, a federal prison in Massachusetts which provides specialist mental health care. Judge Román also ordered Kaufman to spend three years on supervised release, the first six months of which will be in home confinement.
Kaufman's sentencing marks the second time this month that an incel has been sentenced in the U.S. for a federal crime. Last week, also in the Southern District of New York, 20-year-old
Malik "Smooth" Sanchez avoided prison
time for a bomb hoax. Over the objections of federal prosecutors, U.S. District Judge Colleen McMahon sentenced Sanchez to probation.
@Therapywasaaste
@Words2_live_bye
@rope2cope
@tenta
@Robtical
@Mentally lost cel
@Atavistic Autist
@Indari
@JayGoptri
@GloriousFight
@Linesnap99
@ERadicator
@InMinecraft
@Izayacel
@MaxZM98
@Rotter
@übertard
Last edited: