Joined

Oct 1, 2018
Posts

26,844
Online

250d 2h 41m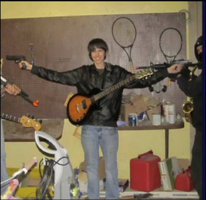 Kaufman posing with a banjo and two guns
David Kaufman
, 28, will be sentenced at 11:45 am this Thursday (April 14th, 2022) by U.S. District Judge Nelson S. Román at the Charles L. Brieant Jr. Federal Building in White Plains, New York.
Here's where the U.S. Attorney's Office and Kaufman's counsel are positioned on sentencing.
UPDATE
: Kaufman received a 30-month sentence.
Background
Hey wanna hear a joke? What's worse than 10 Stacy's nailed to one tree? One Stacy nailed to ten trees. *laughing crying face emoji*

—David Kaufman to Person-1, on or about June 24th, 2020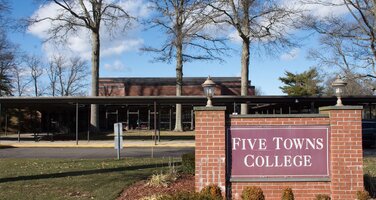 Between 2012 and 2016, David Kaufman attended Five Towns College, a private music school in Dix Hills, New York. There, he met two classmates, Persons-1 and -2; it is likely that Kaufman had an unrequited romantic interest in Person-1. He fell out of contact with them in 2014. But in 2019, Kaufman made known his obsession with Persons-1 and -2, now a couple living in Long Island. Indeed, he made no less than 50 social media accounts to harass them. At the time of his offenses, Kaufman was an employee of the U.S. Postal Service.
According to a criminal complaint filed by FBI Special Agent Jacqueline Ross, Kaufman's actions escalated gradually.
In October 2019, Kaufman made several unusual comments on Person-1's Facebook posts. One of them read "It goes to show that Chads like [Person-2] can literally say anything and have everyone love them no matter what…You're helplessly sexually attracted to his Chad face…" When he was blocked on Facebook, he told Person-1 on her YouTube channel that Person-2 was a weak boyfriend and that Person-2 would've already killed himself if he was an incel.
Kaufman then took his campaign a step further by sending harassing messages to Person-1 and -2's friends. He created social media accounts impersonating Persons-1 and -2. On the accounts where he adopted Person-1's persona, "she" repeatedly claimed to be physically abused by Person-2. On another occasion, while impersonating Person-2, he sent a female friend of Person-1 the following message: "Can I pinch your nose while having u suck my cock so u can't breathe?"
With his own account, he also engaged in the following awkward conversation with Person-4, a friend of Persons-1 and -2: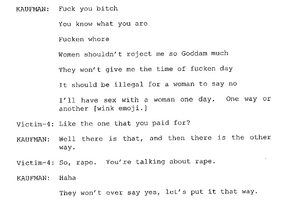 Women have done nothing but spit in my face. Soon I'll be getting a gun.

—David Kaufman to Person-1, on or about July 11th, 2020
On or about July 14th, 2020, Kaufman was arrested by the New York State Police and charged in the Town of Cortlandt Justice Court with three misdemeanors: two counts of aggravated harassment, and one count of identity theft. He was released, and a municipal judge, Kimberly E. Ragazzo (pictured below), entered a restraining order instructing Kaufman to avoid contact with his alleged victims.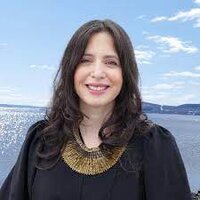 But Kaufman did not stop escalating. Instead, he made death threats, veiled and explicit. Despite the court order, Kaufman posted on Instagram: "I may not be able to talk to [Person-1], but at least I can jerk off to her insta pics", followed by "When [Person-1] and I are dead, we'll be in heaven together forever." He also wrote: "Big Man (referring to himself) LOVES the second amendment *smiley face emoji*...My dream is to become an expert in hunting..." On one of his many social media accounts, Kaufman uploaded a profile picture featuring him licking a photo of Person-1.
Kaufman then messaged Person-2, the boyfriend of Person-1, a graphic photo of a deceased girl who had been stabbed, with this caption: "This is what happened when a woman said 'no' to Elliot Rodger…Hopefully [Person-1] never said no to someone just like Elliot Rodger."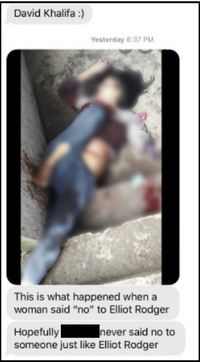 A screenshot of one of Kaufman's threats
Soon before his federal arrest, Kaufman sent two Twitter messages to Person-2 and a female friend of Person-1: "Death is good." "...Fun fact! I know where you live…"
Aside from harassing Person-1, her boyfriend, and their social circle, Kaufman made clear his dislike of the high school he once attended. "Fuck [abbreviation of high school]!! Someone should teach those shits what the second amendment is all about." and "I hate the normies from [name of high school]." Additionally, Person-1 may not have been Kaufman's only romantic interest. He allegedly stalked two other women, though he has not been prosecuted for these incidents.
First, in April 2019, an officer in the Mount Pleasant, NY police department called and asked Kaufman to stop harassing Person-6. Kaufman had texted her numerous messages, including "FUCK U STUPID WHORE!!!", after Person-6 had declined his invitation for a date.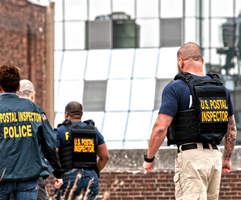 Second, on July 13, 2020, federal agents from the U.S. Postal Inspection Service (USPIS) interviewed him, because they suspected that he had hand-delivered the following note in Person-3's mailbox in or around February 2019: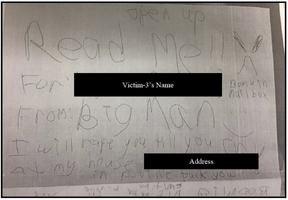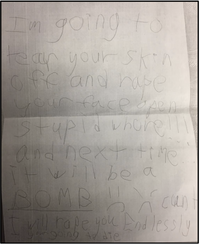 A legible version of said note:

Kaufman was advised of his Miranda rights but waived them. He admitted to the USPIS that he identified as an incel, supported Elliot Rodger's ideology and manifesto, and that he left the note in Person-3's mailbox because she was a young, attractive female. However, he was not arrested then.
The FBI Arrests Kaufman
On September 4th, 2020, FBI agents from the New York JTTF (Joint Terrorism Task Force) arrested Kaufman at his and his parents' home in Westchester County, New York. The U.S. Attorney's Office soon secured a two-count indictment charging him with one count of transmitting threatening interstate communications, and one count of stalking. This time, he was denied bail. As of writing, Kaufman has spent the last 19 months in jail.
In December 2021, Kaufman pleaded guilty to both counts. He faces a maximum of five years' imprisonment on each count, for a total of ten years.
View: https://twitter.com/SDNYnews/status/1471186457880666124
From the U.S. Department of Justice's press release:
FBI Assistant Director Michael J. Driscoll said: "Kaufman's overt hatred of women and sickening threats to harm potential victims caught the eye of the FBI's Joint Terrorism Task Force in New York. We know acts of violence among those in the Incel community have increased in recent years. As Kaufman's guilty plea brings this topic closer to the forefront, we want the public to know the law enforcement community is aware of the threat and working together to confront it."
The Federal Sentencing Guidelines
Established by the Sentencing Reform Act of 1984, the U.S. Sentencing Guidelines ("U.S.S.G.", "Guidelines") exist to promote fair and uniform sentences of defendants convicted of federal crimes. Perhaps the most prominent individual to ever serve on the U.S. Sentencing Commission, a seven-member agency responsible for drafting and amending the Guidelines, is Associate Justice-designate Ketanji Brown Jackson. While the Guidelines are not binding, they exist as an influential "benchmark", or a "starting point" in determining the actual sentence a defendant will receive. It does so via a complex formula featuring a point-based score for almost every federal crime.
Here's how Kaufman's recommended sentence is being calculated: He pleaded guilty to a two-count indictment, as mentioned earlier. But since both counts involve closely related conduct and can be grouped together, the Guidelines calculation is to be made via the more severe count of conviction; in this case, Count 2.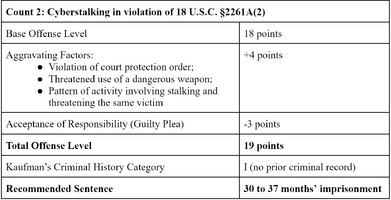 A report by U.S. Probation and Pretrial Services suggests Kaufman be sentenced to 30 months, on the lower end of the Guidelines range.
Defense Request
Last week, Kaufman's privately retained attorney, Michael K. Burke, filed his sentencing memorandum, requesting a relatively lenient 20-month sentence, a downward departure from the Guidelines. Much of Kaufman's sentencing request is heavily redacted, as sensitive information such as medical records are exempt from public disclosure.
Burke admits that Kaufman's threats were "graphic, bizarre, and troubling". But Kaufman is a "young man with a developmental disorder and metal [sic] illness that has been misdiagnosed and treated incorrectly for most of his childhood and young adult life," leading to significant bullying and alienation. "This disability…is the cause of his alarming behavior and inability to understand why his behavior is so serious," Burke adds. Because Kaufman's disorders led to his conduct, it is in the community's best interest that he immediately have "the treatment and services he desperately needs."
With a 20-month sentence, Kaufman would effectively be sentenced to time served.
The Government's Request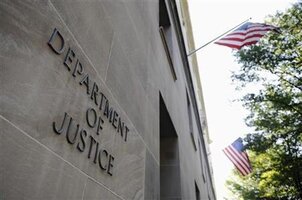 Today, Assistant U.S. Attorney Jane Kim filed her response: Burke "dramatically overstates" Kaufman's cognitive deficits and "attempts to exploit" Kaufman's history of depression. Kaufman's conduct was "calculated, sophisticated, and unrelenting," he continues to have a "rigid irrational belief system", and has "expressed no remorse for his conduct." Kim seeks a sentence on the high end of the Guidelines range: 37 months' imprisonment. If Kaufman is shown leniency, Kim argues, the judge would "release a potentially violent and volatile Incel into the community".
Much of Kim's brief is devoted to describing the events of Kaufman's campaign of stalking. But she also recounts the suffering of Kaufman's supposed "victims". Person-1 now claims that she suffers from "PTSD, anxiety, and depression," is a "completely different person," cannot sleep without nightmares, and feels "terror and dread" on stage (she is a professional musician). She writes:

Meanwhile, Person-2 (Person-1's boyfriend) says that he has become "increasingly private and afraid to trust and meet new people", and that he is now paranoid and has frequent nightmares and panic attacks, because of Kaufman's behavior.
Person-3 writes that she "began shaking" and "dropped to the floor" with "tears rolling down her face" when she opened her mailbox and read Kaufman's handwritten threat to rape and bomb her. She claims she did not sleep for a day, lived "in a constant state of fear," and was so petrified by Kaufman's stalking that she had to have an escort to walk with her to and from her car.
Kim concludes by writing that "Incels are a growing group of violent extremists," and that the Court "has the opportunity in this case to send a message to the Incel movement" that "they cannot simply deflect responsibility onto claims of immaturity, boyishness, or depression". Although the U.S. Attorney's Office is requesting a Guidelines sentence, not an upward departure, one wonders if they are relishing their chance to sadistically punish an incel—after their failure to secure a harsh sentence against another incel defendant last week,
Malik "Smooth" Sanchez
.
@Lonelycel
@tenta
@Rotter
@Dregster666
@Caesercel
@Escthectrler
@Robtical
@erenyeager
@ordinaryotaku
@BlackPilledNeet
@Arabcel9
@TheDarkEnigma
@KetamineAddictYoda
@Mecoja
@Escthectrler
@based_meme
@HighTGymcel
@Linesnap99
@Izayacel
@Emba
@solblue
@Restart80
@ThisLifeKillsMe
@ERadicator
@Mentally lost cel
Last edited: