PPEcel
Triggering soycucks since 2018 :D
★★★★★
Joined

Oct 1, 2018
Posts

25,169
Online

202d 5h 14m
Hey wanna hear a joke? What's worse than 10 Stacy's nailed to one tree? One Stacy nailed to ten trees .

— David Kaufman to Person-1, allegedly, on or about June 24th, 2020
Introduction
This is a case that I haven't yet extensively covered, mostly because the case is moving extremely slowly.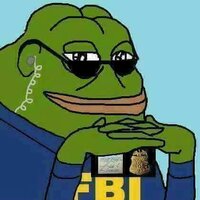 David Kaufman was arrested by FBI New York JTTF on September 4th, 2020. On October 26th, 2020, a grand jury in the U.S. District Court for the Southern District of New York indicted him on one count of transmitting threatening interstate communications and one count of stalking, in violation of 18 U.S.C. §§ 875(c) and 2261A. He faces a maximum sentence of five years' imprisonment on each count.
Kaufman allegedly sent threatening messages to normies
According to FBI Special Agent Jacqueline Ross' deposition, Kaufman is allegedly an incel who created no less than 13 social media accounts to harass, stalk, and threaten a Long Island couple ("Persons-1 and -2") he met at college and their friends.
Examples of Kaufman's alleged conduct in 2019 and 2020 include:
Sending Person-1 the following message: "Women have done nothing but spit in my face. Soon I'll be getting a gun."
Sending Person-2 (the boyfriend of Person-1) an image of one of Elliot Rodger's victims, accompanied with the following message: "This is what happened when a woman said 'no' to Elliot Rodger . . . . Hopefully [Victim-1] never said no to someone just like Elliot Rodger".
Sending a friend of Person-1 the following message: "Can I pinch your nose while having u suck my cock so u can't breathe?"
Sending Person-5 the following message: "One day I wanna teach people what the second amendment is all about."
On one of his social media accounts, uploading a profile picture of himself licking a photograph of Person-1.
Exchanging the following messages with Person-4: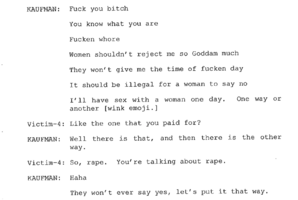 Kaufman was reported to the Stamford, CT Police Department. In conjunction with the New York State Police, on or about June 30th, 2020, state and local law enforcement contacted him to notify him that he was suspected of sending these messages.
On or about July 13th, 2020, two federal agents from the U.S. Postal Inspection Service interviewed Kaufman. Kaufman waived his
Miranda
rights, said that he was an incel and agreed with Elliot Rodger's ideology and manifesto. Kaufman also admitted to delivering the following handwritten note to Person-3's mailbox in or about February 2019, because Person-3 is a young, attractive femoid:

The next day, Kaufman was charged with three misdemeanours in county court: two counts of second-degree aggravated harassment and one count of third-degree identity theft. The judge issued a protective order prohibiting Kaufman from contacting Persons -1, -2, and -3.
Kaufman allegedly disregarded this protective order and continued to threaten and stalk them. That is when the FBI stepped in.
What now?
Unlike incel YouTuber Smooth Sanchez (
who is also facing federal charges in the Southern District of New York
, but is released on bail), Kaufman remains detained pending trial on the grounds of dangerousness to the community.
Due to COVID-related delays, Kaufman's case is still in the pretrial phase. Discovery was complete July 2021, and the next status hearing is scheduled for December 10th, 2021. Should there be a trial, it will most likely begin early/mid-2022.
AUSA Jane Kim of the U.S. Attorney's Office's Terrorism and International Narcotics Unit is prosecuting the case. On an unrelated note,
AUSA Kim was/is under investigation for prosecutorial misconduct in the botched case of
Iranian-American banker
Ali Sadr Hasheminejad
.
Kaufman's attorneys are Jason Ser of the Federal Defenders of New York, and Michael Burke of Hodges Walsh & Burke LLP. The case is being overseen by Judge Nelson S. Román.
Last edited: