Sheogorath
Daedric Prince of Madness disguised as an incel
★★★★★
Joined

May 20, 2018
Posts

17,326
Online

94d 22h 2m
kudos to CBS writer Dean Fioresi for professionally using neutral descriptor "reportedly" when presenting her account of the conflict, since we have not heard the account of the accused party SEMEON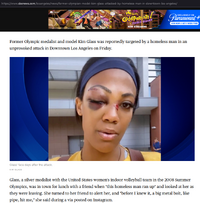 "in town for lunch with a friend when "this homeless man ran up" and looked at her as they were leaving. She turned to her friend to alert her, and
Kim Glass said:

before I knew it, a big metal bolt, like pipe, hit me
51-year-old Semeon Tesfamariam is the accused suspect.
While it's true there are people who do unprovoked attacks on others, I don't think we should always assume that homeless people are innately violent or in the wrong in these encounters.
There is a lot of stigma around homelessness where they will be assumed to be in the wrong (violent, theft, etc) and I think some people exploit that to bully them, knowing if the homeless defend themselves, the none-homeless instigator will be asssumed to be the victim and the homeless wrongly labelled the initiator.
It seems entirely believable, for example, that this successful lady volleyball might be overconfident and arrogant and she and her "friend" might've assaulted Semeon by spitting on him, throwing a can at him, kicking him while he's sitting on the ground, etc.
I definitely want to hear Semeon's side of things and know if there are any witnesses here before assuming he is in the wrong. IMO if a woman attacks you then you have a right to defend yourself, and if you are outnumbered 2 to 1 by imposing athletes, sometimes you need a weapon like a metal pipe as an equalizer so that they do not murder or maim you.
Kim Glass is 6'3" tall and we don't know how tall her friend is. How tall was this homeless man?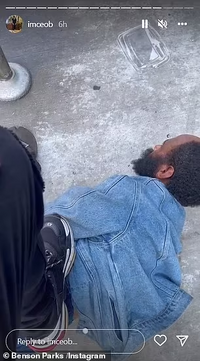 Not the best frame of reference, but in this image which "imceob" Benson Parks took of stomping on Simeon, Simeon looks like a short unimposing manlet - is he even tall enough to reach the towering face of Kim Glass? Have doctors assessed his shoulder mobility? A lot of elderly men have trouble reaching their elbows above shoulder level and cannot do overhead swings.
You'll notice at
https://businessguideafrica.com/2022/07/12/semeon-tesfamariam-kim-glass-attacker/
there is no mention, in Benson Parks' account of restraining Semeon
I want to remind you all that Black Lives Matter and Black Homeless Lives Matter. Kim Glass is whiter than Semeon and we should not indulge her white privilege - just because she has paler features does not mean she is the innocent party.
Parks took a video of the encounter which you can see is used in part during the July 12th Inside Edition about this:
The guy who rescued her is shorter than her, if you look: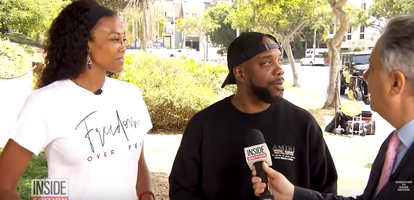 She's 6'4" so he's probably 6'0" at the tallest, hard to say exactly.
Now if you look how even this average-height guy towers over Simeon, my guys is Semeon was a 5'6" shortcel who is regularly dehumanized by women on the regular, which must be especially infuriating when black women do it.
Incredibly skeptical of "unprovoked". Even if Kim Glass didn't actually assault this guy, she might've said something rude to her or shot him a dirty look.
Even if that doesn't legally or morally warrant attacking her, that's still a form of provokation worth acknowledging here.
Too often we paint assaulted women as purely innocent never-offended-anyone charicatures and demonize the assaulter acting like they are senseless, had no discernable motive, etc.