Ultimatepassivecel
Admiral
★★★
Joined

Jan 28, 2020
Posts

2,726
Online

25d 9h 50m
- Females have higher chances of giving birth to a disabled child past the age of 26 bcs not enough female hormones to keep eggs healthy.
- A 20 year old female who regularly exercises is still weaker then a 20 year old incel with thin wrists (Speaking from personal experience)
- Female hormones slowly stop re-producing after the age of 25,much early ıf the women is a heavy smoker and takes too many chemicals inside her body.
- THEY BLEED A FUCKİNG BLOODY JELLYFİSH OUT EVERY MONTH EWWWW
- Women's bone structure changes to become more masculine as the age goes by.
- Women cant re-produce after getting old enough
- Women's brain is less developed then male brain,thats why they still have Ape brain mode where they prefer ''loud big'' mates without a second throught.
- They hit the wall as early as fuckin 19 (See the image)
- God hates them so much when they have sex for the first time,god makes them bleed and tear their vagina. So she cant lie about being a virgin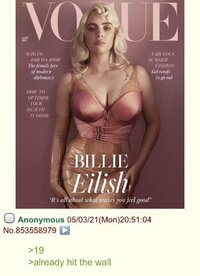 Meanwhile men never lose their masculanity and cant give birth to babys even after ageing (Of couse a 60 yo grandpa cant breed but at least a 45 year old male can)
İn fact they look better with age.
Last edited: