PPEcel
Director of Counter-Counter-Radicalization
★★★★★
Joined

Oct 1, 2018
Posts

28,734
Online

273d 11h 33m
View: https://www.reddit.com/r/IncelTear/comments/ofsgxp/holy_shit/
This is Bianca Devins. If you've been around here for a while, you've almost certainly heard of her.
The 17-year-old daughter of a single mom was violently murdered by Brandon Andrew Clark in Utica, New York over three years ago. Clark was not an incel, despite many claims to the contrary. That is a piece of disinformation that survives to this very day.
In reality, Clark was a 21-year-old bluepilled, normie simp whom Devins had initially met on Discord. As he was 21, he was able to buy alcohol for Devins and her high school friends. Clark seemed to have been infatuated with Devins almost immediately, adding two tattoos dedicated to her; but his romantic feelings weren't mutual.
So six weeks after they met, Clark planned to murder Devins and commit suicide afterwards. On July 14th, 2019, after a Nicole Dollanganger concert, Clark raped Devins in his car whilst videotaping the encounter with a dashboard camera. He then slowly murdered her with his knife as she pleaded for her life. After Devins died, Clark sent a picture of her body to her Discord server. The image went viral.
Clark failed to commit suicide and is now serving a life sentence at Attica Correctional Facility. He will be eligible for parole in 2044, after serving 25 years.
The Lawsuit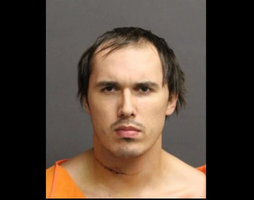 The prosecution of Brandon Clark (pictured here) was handled by the Utica Police Department and the Oneida County District Attorney's Office. Given the enormous public interest in the case, multiple media organizations filed FOIL requests to obtain related documents.
For one reason or another, perhaps poor records management, Oneida County prosecutors allegedly sent producers at CBS' 48 Hours and A&E a copy of the sex and murder tape recorded by Clark. This was likely improper, as Bianca Devins was 17 at the time of her death. Additionally, one Utica PD officer is alleged to have shown part of a body camera video to members of the public at a local bar; in that video, officers wrestle Clark to the ground whilst Devins' mutilated corpse is visible in the background.
No, you didn't misread this. The cops and the government, of all people, allegedly distributed child pornography and snuff film featuring Devins to the media.
When Devins' mother learned of this, she was extremely distraught. So in July 2021, roughly two years after the murder, she sued Oneida County on behalf of Bianca's estate in the U.S. District Court for the Northern District of New York. Devins' estate was represented by Carrie Goldberg, a feminist lawyer in New York City. If you didn't know, Goldberg is the same ambulance chaser who once wrote a letter to the U.S. Department of Justice asking for the prosecution of our forum's founders, Serge and Master.
You can read the 22-page complaint here:
The Decision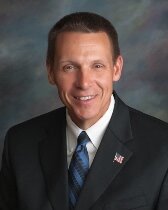 The Oneida County DA's Office, under the leadership of District Attorney Scott McNamara (pictured here), argued that even if the allegations were true, the claims should be dismissed for a variety of reasons. And on September 29th, 2022, U.S. District Judge Glenn T. Suddaby sided with the County on dismissal. You can read the order here: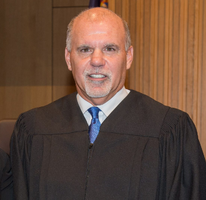 Judge Glenn T. Suddaby
The 45-page order contains numerous points of law which will bore you so I won't elaborate too much, but the most significant one is Judge Suddaby's treatment of the federal child pornography claims under 18 U.S.C. §§2252A and 2255.
Here, the Court reasoned that although the material within the sex and murder tape constituted child pornography, Bianca Devins' estate lacked standing because she suffered no reputational harm—as a result of being dead at the time the child pornography was allegedly distributed. Therefore, Judge Suddaby granted the Fed. R. Civ. P. 12(b)(1) and (6) motion to dismiss.
Or in other words, he BTFO'd the dead roastie's lawsuit.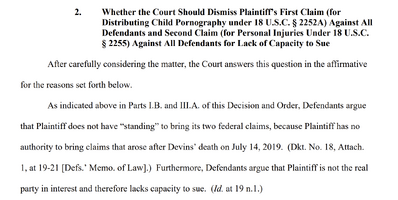 Excerpt of Order, p. 37
Needless to say, child pornography is not great. But I do have to applaud Judge Suddaby for having the courage and conviction to apply the letter of the law, no matter what the personal feelings of Devins' simps may be on the issue.
Absolutely BASED decision!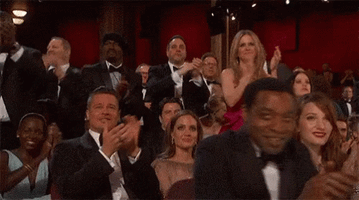 @Master
@MiSKiRaT
@CurryLMAO
@Noseman
@Ricordanza
@Izayacel
@Ehwhatever
@wastedTime
@Pancakecel
@zionpill
@kretschmer
@NorthernWind
@My Name Jeff
@RuudVanNistelrooy
@Rice Rice Baby
Last edited: