PPEcel
Director of Counter-Counter-Radicalization
★★★★★
Joined

Oct 1, 2018
Posts

28,729
Yesterday, the U.S. Attorney's Office for the Southern District of Florida
announced
:
Julianna Clare Strout, 36, has been convicted of lying to get into a federal immigration detention center in Miami to see her romantic partner. Strout has served as a North Bay Village City Commissioner since November 2018. Her term expires this November.

Strout pled guilty to a federal information charging her with attempting to enter, and entering, a federal facility using fraud and false pretenses.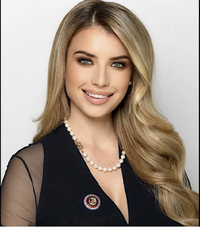 Strout (pictured here) is a former Miss Rhode Island and is also a city commissioner in North Bay Village, Florida.
For most of 2021, the Krome Service Processing Center, an immigration detention center in Miami, suspended social visits due to the COVID-19 pandemic. Legal visits, however, were still allowed. So Strout hatched a plan: she would LARP as a law firm's paralegal in order to see her detained ex-boyfriend. She fabricated a letter with a law firm's letterhead and successfully talked her way into a visitation at the ICE facility on October 18th, 2021.
But according to the
factual proffer
of the plea agreement filed in this case, her ex-boyfriend ("Individual 1") didn't want to see Strout. He ratted her out to the feds:
STROUT met with Individual 1. Individual 1 asked Krome Detention Officers to end the meeting. Individual 1 subsequently told ICE Supervisory Deportation Officers that he and STROUT had been in a romantic relationship, and he did not want to see her. (p. 3)
That didn't stop her. Two days later on October 20th, Strout attempted another visit to Krome using the same fabricated letter, but was denied entry by the guards. Still undeterred, Strout tried to visit her ex a third time on October 22nd. This time, a supervisor told her that he had contacted the actual law firm on the letterhead, and confirmed that she was never employed there.
After an FBI investigation, Strout faced a three-count information in federal court:
The roastie was ultimately sentenced to one year of probation and 50 hours of community service, which is light but unsurprising because she's a femoid.
See, I can't imagine being so deranged as to risk federal charges to visit anyone in jail. If anything, this demonstrates the absolute lengths that femoids will go to in order to seek attention from Chad (or given the circumstances, probably a Chadriguez).
Oh, and there's a certain amount of irony in the fact that she promoted Republican causes (see one of her social media posts below). Aren't cuckservatives supposed to be for law and order and against illegal immigration and all that?
View: https://www.instagram.com/p/CPTaO7prvT3/
Just fucking amazing.
Last edited: