PPEcel
Director of Counter-Counter-Radicalization
★★★★★
Joined

Oct 1, 2018
Posts

28,729
Online

275d 23h 7m
View: https://www.reddit.com/r/IncelTear/comments/z9t1qc/disgusting_and_revolting/
Recently, a fellow incel on Discord sent me the above Reddit post where my
previous write-up on the Bianca Devins litigation
was featured on the cesspool that is CuckTears. As expected, their comments veer from the uninformed to the deranged.
(I'm looping in
@AsiaCel
@Incelius Savage
@Dregster
@Chingaquedito
@The Enforcer
@NorthernWind
@Alexander400
@RuudVanNistelrooy
@PointOfNoReturn
because they were also included in the screenshot.)
Here's how the story unfolded, in case you forgot:
17-year-old e-girl Bianca Devins gets raped and killed by her simp, Brandon Clark.
Clark recorded a tape of himself committing the crime and is eventually sentenced to 25 to life.
District Attorney's Office accidentally leaks the tape to the press.
E-girl's estate sues the DA's Office for the leak.
Based federal judge dismisses the estate's lawsuit for numerous procedural reasons.
Now the reason I've been following the case for years now is that in the hours following Devins' murder, soycucks began to spread online misinformation about Clark's affiliation with the incel community. Clark was a low-tier normie, of course, and law enforcement ultimately found no evidence that Clark ever identified as an incel.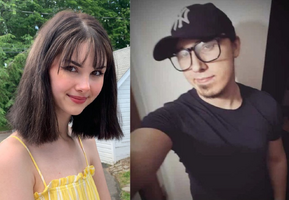 Devins and her simp
Anyways, let's methodically unpack what these Redditors had to say:
Federal Civil Procedure = "The Incel's Brain Twisted It"
While Judge Suddaby's reasons for dismissal are numerous and highly technical, the most significant reason was Devins' lack of capacity. As she was already dead at the time the sex tape was allegedly shared, the federal child pornography statute supporting her cause of action was inapplicable.
Redditcucks being who they are, they struggled to wrap their heads around this sentence.


Except I didn't twist anything. Devins' first cause of action relied on 18 U.S.C. § 2255, a federal statute that allows abuse victims to sue any perpetrator who produced, received, distributed, or possessed child pornography in which they were the victim. Here's what § 2255(a) says, in part:
Any person who, while a minor, was a victim of a violation of section 1589, 1590, 1591, 2241(c), 2242, 2243, 2251, 2251A, 2252, 2252A, 2260, 2421, 2422, or 2423 of this title and who suffers personal injury as a result of such violation, regardless of whether the injury occurred while such person was a minor, may sue in any appropriate United States District Court and shall recover the actual damages such person sustains or liquidated damages in the amount of $150,000, and the cost of the action, including reasonable attorney's fees and other litigation costs reasonably incurred.
Here's the kicker: the statute says "
person
". Not "
dead person
". Devins was already rotting in the ground at the exact moment that the DA's Office inadvertently distributed the rape tape. Now, this by itself isn't fatal to Devins' estate's argument, but it merits further consideration. So to resolve the question over whether Devins' estate had the capacity to sue the DA's Office, Judge Glenn T. Suddaby looked to Federal Rule of Civil Procedure 17(b)(3), which states:
Capacity to sue or be sued is determined as follows:

(3) for all other parties, by the law of the state where the court is located...
Unfortunately for Devins, according to New York state court precedent, her "personal representative has the authority to bring causes of action that were viable at the time of [her] death,
[but] not claims that arose after . . . her death
."
Lucker v. Bayside Cemetery
, 979 N.Y.S.2d 8, 15 (1st Dep't 2013) (internal quotations omitted). And so based on these findings, Judge Suddaby dismissed Devins' main cause of action for lack of capacity to sue.
Not once did I suggest, of course, that child pornography is legal if the child victim happens to be deceased. That is absolutely not the case. Child pornography is not protected by the First Amendment, and prosecutors have wide discretion to bring
criminal actions
against anyone who possesses or distributes such material. But the law differs for
civil actions
: the defendant can very well challenge the plaintiff's (i.e. Devins) capacity to sue.
To u/Neathra's credit, she did take the time to understand the ruling and concluded that I was, of course, technically right. That's more intellectual honesty than you'll get from 99% of Redditors.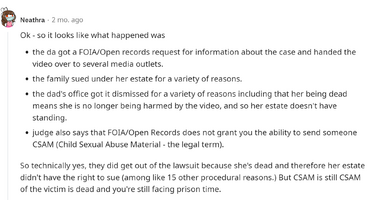 But in explaining Judge Suddaby's reasoning to other Redditors, she follows up with an inapt analogy:

The media has a First Amendment right to talk about mass shootings and criticize and ridicule mass shooters, dead or alive. Full stop. It would be frivolous to suggest otherwise. On the same note, incels also have a First Amendment right to talk about mass shootings and mass shooters, even if an incel's viewpoint on this issue may be controversial and disagreeable.
"A Country Should Be Held Accountable"

How do you unpack two comments so obviously flawed, logically and factually?
Well, let's start here: Incels.is is operated by private citizens, not by any state actor or foreign state, so no entire country is being "held accountable" for hosting our website. But even if we were operated by a foreign state (we aren't)—if we were funded by the Russians or the Chinese or the Saudis, for example—any civil or criminal case in any American court against an entire country (i.e. foreign state) for hosting Incels.is would run into a jurisdictional hiccup: the Foreign Sovereign Immunities Act of 1976.
The second question is: Accountable for what? For praising the federal judiciary for faithfully interpreting the letter of the law instead of acting as a junior varsity legislature, even if the ruling might upset the family of a 17-year-old girl who was raped and nearly decapitated? Because that was the main point of my prior post: Judge Suddaby did a good job.
Ah, another Redditor says, Incels.is "could encourage" hate crimes. I don't agree. But even if we did, the mere "encouragement" of hate crimes is protected speech. Speech doesn't lose constitutional protection on the basis that it could hypothetically motivate a person to do something bad. Incendiary speech is unprotected if and only if the speech is "
directed to
inciting or producing
imminent
lawless action" and is "
likely
to incite or produce such action".
Brandenburg v. Ohio,
395 U.S. at 447 (1969). Because the federal courts have construed the "imminence" and "likeliness" prongs of the
Brandenburg
test quite literally and narrowly, the First Amendment protects the "mere advocacy" of illegal activity.
Id.
Thanks to
Brandenburg
and several other precedents from the (extremely based) U.S. Supreme Court, the legal barrier for defining speech as "incitement" is very significantly higher in the United States than the rest of the world.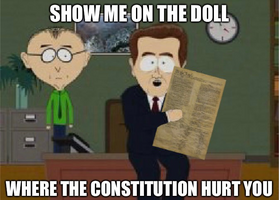 Redditors seem to think that by uttering a magic sequence of words, like "threat to democracy", "spreading hate", or "stochastic terrorism", they can make an end-run around the text of the Constitution and criminalize speech that is, in fact, perfectly legal. But that's not how it works.
"Guantanamo Bay"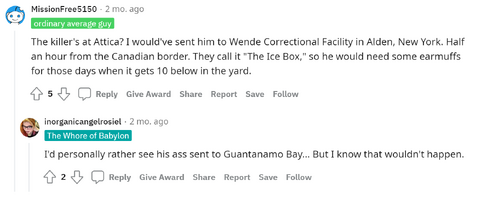 Yikes, sweaty! Torture is bad. And why would Brandon Clark—convicted on NY state charges—be the responsibility of the (federal) U.S. military? That doesn't even make sense.
By the way, what's wrong with Attica anyway? If I know anything about NY state prisons, it's that the amenities there are considerably worse than at the Waldorf Astoria. Man, you guys are sadistic.
"Legit so delusional or inaccurate"...

...perfectly describes most of the comments on this Reddit post. Thank you for putting the words in my mouth.
Last edited: