Deleted member 32877
Pretty Sad
-
Joined

Feb 11, 2021
Posts

262
Online

3d 13h 42m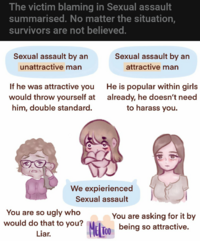 She tries to say that there's a double standard between foids getting "assaulted" by ugly men and foids getting "assaulted" by chad. There's no double standard. Say that to my fucking face you dumb whore, as someone who's been accused of assault by a foid because I was ugly, I know as a fact that everything this dumb fuck says is wrong.
Nobody says "he is popular within girls already, he doesnt need to harass you"
Nobody says "You are so ugly who would do that to you? Liar"
Nobody says 'Ypu are asking for it by being so attractive"
Foids are excellent at making up random ass horseshit and passing it off as true, with any evidence of their assumptions is just them being a foid. And bluepillers far and wide believe these dumb fucks, which is why it is so dangerous to be near a foid these days, especially the American ones. Foids can say you raped them and pull up shit like this when you tell them they spew lies, fuck this clown world.