Joined

May 20, 2018
Posts

9,315
Online

45d 7h 21m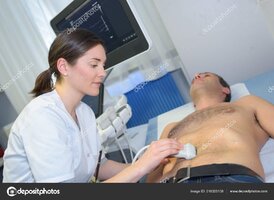 All you guys who have public health care, don't be afraid to take advantage of it to deal with injuries, especially if you feel chest pain.
Not only might you catch something wrong with you, but even if you don't, it eases your mind of worrying about something that might be possibly going on.
Plus a side benefit I hadn't even planned for (after all I might've gotten an ugly dude technician) was the sort-of-erotic experience of having my chubby tummy rubbed by a girl. She used her hand (albeit gloved) to rub gel on me and then to move the wand. Even with prophylactic it's still a very intimate experience as I am generally very distant from contact with people.
I guess incel-tier trait is the closest contact you get with humans is wit h your health-care providers.
It's not exactly an ideal GF experience though because they push pretty hard and it was especially painful for me because I think I had strained/torn some of my intercostal or oblige fibers so some of the pressure points that got wanded on my chest were quite tender. it only got worse when after looking at the ultrasound I got upgraded to a dude doctor who jabbed me really hard in the ribs and told me to take some aspirin.
I expect to Chad shit like this is just a hassle because he gets tummy rubs from cuties all the time, but this unexpected intimacy (TBH all I expected was to get a chest x-ray) was the closest I've been to a girl in over a decade.
Last edited: