Sheogorath
Discord = Sheogorath#4751
★★★★★
Joined

May 20, 2018
Posts

18,884
Seeing this horribly transphobic meme got me thinking...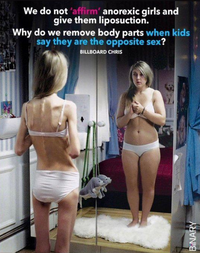 As we are not hypocrites, and as we strongly support transgendered people here on this forum, I realized we should promote body affirmation surgery for ALL women in need - it would be misogynistic NOT to, because feminism is about supporting what women want.
If women want to be thin we should help them become as thin as they want to be by government-sponsored liposuction surgeries, just like the government is sponsoring gender affirmation surgeries for transwomen who were tragically AMAB
I believe women are cranky because they are transthinuals who are thin personalities trapped in the bodies of landwhales.
By affirming their thindentity they will become happy and get along with us better.
Also I hope they also support our own affirmation surgeries to become taller and get better bone structure and muscle so that we look like the superheroes we feel like on the inside.
@Fat Link
by the sound of your name, like myself you might be a transthinual as well, do you look forward to us and our fellow TRANS allies embracing body affirmation surgery to become thin and sexy?
Seeing a beautiful thin girl is THINSPIRATION for me to also become thin, I want us to affirm our body identities together.