PPEcel
Director of Counter-Counter-Radicalization
★★★★★
Joined

Oct 1, 2018
Posts

28,734
Online

273d 11h 5m
Today, U.S. District Judge Susan J. Dlott ruled on several Fourth Amendment issues concerning the federal prosecution of Ohio incel Tres Genco.
Back in February 2022, Judge Dlott granted the defense's motion to suppress evidence from a warrantless search by detectives from the Highland County Sheriff's Office. This means that at trial, federal prosecutors
cannot
use or refer to Genco's handwritten notes as evidence that he planned to go ER. The notes included a reference to killing 3,000 people, conducting an ambush, and military/firearms training. But Judge Dlott declined to extend the suppression to evidence found on a subsequent search on Genco's computer, on which he allegedly typed a manifesto and conducted online searches on weapons, college sororities, and Elliot Rodger.
Today's decision, denying the defense's motion to reconsider, upholds the scope of the Feb. 2022 order.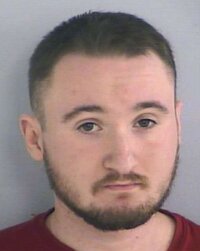 Back in July 2021, Tres Genco was indicted by a grand jury on one count of an attempted hate crime including an attempt to kill, and one count of unlawfully possessing a machine gun. Issues over Genco's Fourth Amendment rights and the constitutionality of the charges are the focus of the several pretrial motions filed so far. Genco, who is 5'6, is currently being held without bond at the Butler County Jail in Hamilton, Ohio.
According to the indictment, Genco was an incel who allegedly planned to commit a mass shooting at Ohio State University. His arsenal allegedly included a semi-automatic 5.56mm rifle with an attached bump stock, and a modified semi-automatic 9mm handgun with no manufacturer's marks or serial number, both of which would be unlawful. The U.S. Attorney's Office alleges that Genco intended to target femoids.
If convicted on both charges, Genco faces a maximum possible sentence of life imprisonment.
Last edited: