CCPcel
Day of Retribution
★★★★★
Joined

Oct 1, 2018
Posts

26,207
Online

237d 15h 18m
Back in March 2022, I covered the results of South Korea's latest presidential election in detail. Consider this an update. You can read my previous thread here: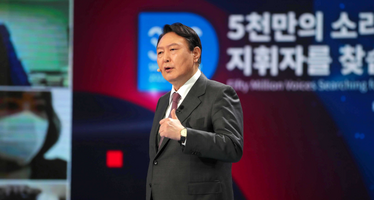 This week,
Yoon Seok-youl
(pictured above) was sworn in as the Republic of Korea's 13th President. This comes after Yoon, of the conservative People Power Party, narrowly prevailed over the Democratic Party of Korea in a bitterly fought election where his margin of victory was less than 1%. South Korea's presidency is elected via a direct popular vote, with winners limited to serving a single term of five years.
Before and after the election, the SJW left spoke of Yoon with hysterical overtones, describing him as an "incel", even though he is 61 and married.
As I noted two months ago, the foreign policy experts on r/IncelTear greeted the news of Yoon's victory with grief and despair. They were joined by their fellow soy-guzzlers on Twitter.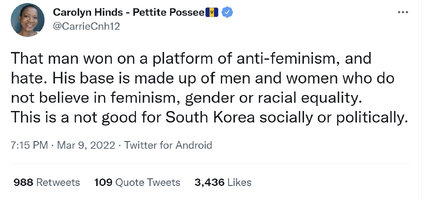 Cope and seethe.
What could prompt such outrage, you ask? Well, Yoon and his political allies see feminism for what it is:
cancer
.
On the campaign trail, Yoon promised to abolish the country's Ministry of Gender Equality and Family, pointing out that its officials treat all men as "potential sex criminals". In another interview, he blamed South Korea's low birth rate on feminism. "Some say feminism is too politically exploited to the point it prevents healthy relationships between men and women," Yoon said. "From a social standpoint, the conditions are ill-suited for having and raising children. This is not a problem that can be solved by giving out government subsidies." He also announced that he would seek to increase criminal penalties for those who make false claims of sexual assault.
After the election, Yoon formed a presidential transition committee, as is usual. But unlike previous presidential transitions in South Korea, his transition committee also did not include a subcommittee for "gender equality". In another controversy, Yoon also named Kim Sung-hoi as his religion and multicultural secretary, who was once temporarily suspended from Facebook for describing homosexuality as a mental illness which can be cured with therapy.
So far, just three of Yoon's 19 ministerial nominees are femoids, and all 20 of his vice ministerial nominees are men.
For those of us who aren't South Koreans, what does Yoon's based anti-feminism hold for the future of South Korean foreign policy? Well, nothing. Yoon's failure to align with the leftist regressive orthodoxy will not adversely affect Seoul's relations with Washington and Tokyo. On the contrary, his election victory was greeted with a sigh of relief by foreign policy experts, who consider South Korea's new government an opportunity to improve ties after years of relatively chilly relations between former South Korean President Moon Jae-in and the Trump administration.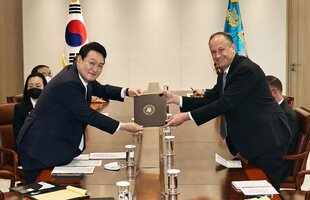 Indeed, Douglas Emhoff (pictured above), the husband of U.S. Vice President Kamala Harris, travelled to South Korea this week to attend the "Incel" inauguration, where he presented Yoon with a letter from U.S. President Joe Biden.
And Biden himself is scheduled to visit Seoul and Tokyo later this month, from May 20th to 24th, where he will also meet the leaders of the Quadrilateral Security Dialogue—Australia, Japan, and India.
This is no surprise. As Washington seeks to expand economic and security ties in the Indo-Pacific region, policymakers and diplomats seeking to counter China's rising influence are unlikely to be distracted by petty culture war issues. Only those Redditors and Twittercucks suffering from Incelophobia Derangement Syndrome would consider gender quotas and muh qweenz to be a more salient issue than, say, North Korea's nuclear sabre-rattling.
In any case, one thing's for sure: with Yoon in power, things seem to be looking up for South Korean men.
Last edited: