Wizard32
Daedric Prince of Madness disguised as an incel
★★★★★
Joined

May 20, 2018
Posts

14,241
Online

74d 6h 1m
Reddit.com/user/Far_Willingness6904
props to
@-BrettyBoy-
for sending me down this rabbithole with his attempt to contact
@Azaylias
in incels.is/threads/is-having-a-ear-fetish-normal.317221/post-7896258
This user has posted images which are allegedly screenshots from this forum purporting to show users from our community talking about molesting toddlers.
I searched these thread titles and the post histories of the usernames shown and could not find these.
In the hypothetical scenario that these users did make such threads and mods deleted them, I expect we should see evidence of the user being warned/punished/banned in response, yet we do not.
Also conspicuously absent is any kind of URL (it is very easy to include URLs in screenshots) or archive.is of the alleged threads.
@FuRed
was targeted 26 December 2021 at reddit.com/r/IncelTear/comments/rol2vu/this_is_a_truly_horrifying_post_this_is_about/

I did an internal title search for phrase "no qualms" and go no results so I'm inclined to think this is a fake thread.
I kind of admire the effort/skill that would go into faking something like this, NGL
@Alone75
was targeted 28 December 2021 at reddit.com/r/IncelTear/comments/rq1wgl/this_incel_wants_to_rape_and_abuse_children_a/

Do you recall making any thread like that? An internal title search of the phrase "sucking grown" returned 0 results for me.
I find it hard to believe mods would delete something like that without punishing the user.
At this point
@Fat Link
had taken over I think and he has never been hesitant about doling out punishments on far lesser infractions of the rules.
29 December 2021 at reddit.com/r/IncelTear/comments/rquhgs/a_3_year_old_why_are_so_many_incels_attracted_to/

@AwakenedArisen
was also subsequently targeted with this image alleged to be a screenshot of their post
3 January 2021 at reddit.com/r/IncelTear/comments/rup830/ewww_why_is_he_sexualizing_a_toddler/

@Edmund_Kemper
it seems you possible are also targeted by similar behavior, I noticed this user replying to this thread targeting you at reddit.com/r/IncelTear/comments/rud3wi/liar_liar_pans_on_fire/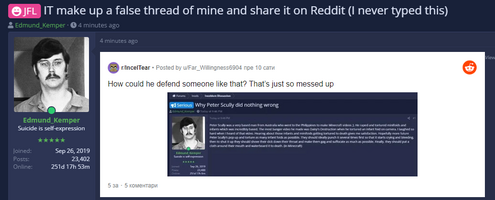 See reddit.com/r/IncelTear/comments/rud3wi/liar_liar_pans_on_fire/hqy73tq/
"He definitely typed this and I screenshotted it right before the mods deleted that thread to cover it up"
This is a followup to this thread from 2 January 2021
reddit.com/r/IncelTear/comments/ru2e07/how_could_he_defend_someone_like_that_thats_just/

I did an internal "Peter Scully" title search and while it did return a thread you made from March 2020 there was no "did nothing wrong" thread
https://incels.is/threads/do-you-th...ve-letters-in-prison-if-he-was-a-chad.183200/
@Edmund_Kemper
do you recall if you made that thread or not? Just trying to see if there's a pattern of purely fake threads or if possibly there might be some real threads they screenshot mixed in with fake ones.
- -
@FrothySolutions
after writing this I just discovered you were already on this fifteen days prior to me at
https://incels.is/threads/screensho...illingness6904-is-framing-people-here.345196/
so I'll plug that thread since it seems to have gotten no replies since January 3rd.
I don't know what you mean about "verifying" that the threads are fake. I don't know if anyone has the resources to do that besides the mods since we probably can't search the titles of deleted threads.
That said, it's intensely suspicious none of these screenshots capture the URL or have an archive.is of that URL which would be incredibly easy to do.
I think any serious archivist of legitimate threads would include both of those things to verify that a thread legitimately existed prior to reporting it, in case it got deleted.
I guess there probably are some IT members this fucking low to fake threads about us like this, but it also occurs to me that maybe this is one of us posting bait to show how gullible IT is, how they will run with a ball without checking the evidence, in which case, congrats, I guess? But there should be an eventual "reveal" with that type of thing.
Or are you just saving up evidence to make a big splash? Am I interfering and helping IT by outing your plans, Baiter-san?