PPEcel
Triggering soycucks since 2018 :D
★★★★★
Joined

Oct 1, 2018
Posts

25,198
Online

202d 15h 32m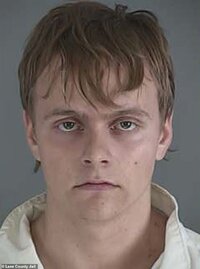 DOJ press release:
An Oregon man has been charged with a federal hate crime after using the internet to target and brutally assault a gay man because of his sexual orientation.
www.justice.gov
FBI affidavit:
Details:
According to court documents, McGee and his victim met using Grindr, a social media and networking application designed for, and used primarily by, gay men. On July 5, after agreeing to meet, McGee entered his victim's apartment and proceeded to assault the man with a wooden club over a period of several minutes. Despite the victim's pleas for McGee to stop, McGee continued striking the man repeatedly in the head with the club. The victim sustained life-threatening injuries and was transported to a local hospital.

Further investigation revealed that, in the weeks leading up to the attack, McGee used the internet to search for and view graphically violent anti-gay material, including videos of anti-gay attacks. McGee also used the internet to plan the assault, purchasing the weapon and other materials online. In addition, McGee searched online for suggestions about how to get away with murder and how murderers avoid getting caught.
what a fucking retard
McGee informed EPD (Eugene Police Department) that he had met Victim 1 on the dating application Grindr, and that he went to Victim 1's apartment because he knew that demons would be there. McGee informed EPD that he had nightmares telling him that there were demons and that he needed to kill "him," which McGee confirmed was Victim 1. He intended to "slay" Victim 1 and "get rid of him." When asked whether McGee targeted Victim 1 because Victim 1 was gay, McGee replied, "No, he's a demon!"
clearly has a few screws loose
The detective first spoke with McGee's father. The father informed the detective that his son has autism, that his son lives at home with them, and that he was unaware his son had left the house on the evening of July 5.
The detective also spoke with McGee's mother. His mother also confirmed that though high functioning, her son was autistic. When provided some information about the assault, his mother stated that she did not believe her son was gay. She also remembered a point in time when her son told her that he wanted to move to Russia because they do not allow gay people there.
oh that explains it