Wizard32
Daedric Prince of Madness disguised as an incel
★★★★★
Joined

May 20, 2018
Posts

14,277
Online

74d 10h 6m
Anyone know where I can find high quality shota hentai?​

I can't find shit online.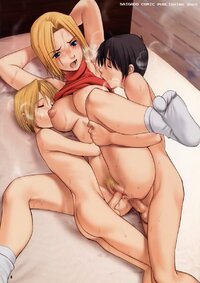 I have this fantasy about a girl who remains a virgin until her mid-20s and then ascending with her when I get my first boner as a teenager.
Older women seem kind of masculine in many cases so if she is getting dominated by a child this makes her seem more effeminate IMO
Women seem too confident in manipulating older men but if I were still a shota it's like a moral flexibility where she would permit more sexual assertiveness since you "don't know better" and "can't help yourself" whereas if you jumped her as an adult man she'd be angry at you.
I also like how since I wouldn't be fuller grown I could fuck with 0% fear of harm to her no matter how hard I fucked her.
TBH this works so well that I wouldn't even mind sharing.
It would feel cucked sharing this girl with an adult man but it doesn't seem like she would be as "ruined" by a shota because his dick is small and wouldn't stretch her out.
That's one thing I like about this , the idea that none of us could deform her.
If her pussy is "loose" I can imagine it's just due to the age difference instead of due to an adult chad stretching her out.
I know a lot of you guys have a sort of universal "gangbangs are always gay" and seeing shit like some obese roasty w/ 5 soy husbands vying for her pussy is depressing as shit.
This feels different though. This I could tolerate tbh.