PPEcel
Director of Counter-Counter-Radicalization
★★★★★
Joined

Oct 1, 2018
Posts

28,734
Online

273d 11h 33m
Yesterday, the U.S. Court of Appeals for the Fifth Circuit released its opinion in
NetChoice, L.L.C v. Paxton.
I'm not exaggerating when I say that this is the probably the most dramatic First Amendment decision from any federal appellate court this century. Rushing this post so probably some typos/errors.
You can read it here:
Relevant news article:
View: https://twitter.com/markets/status/1570901842791473153
Background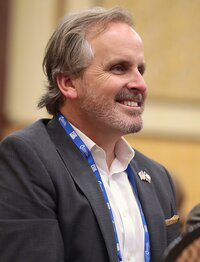 Texas State Senator Bryan Hughes (R), sponsor of H.B. 20
In 2021, Texas Gov. Greg Abbott (R) signed into law House Bill 20, a bill that purportedly prevents social media websites with over 50 million monthly active users from censoring them. Section 7 of this bill creates a private right of action allowing Texan users to seek declaratory and injunctive relief should they or their expression be censored on the basis of:
the viewpoint of the user or another person;
the viewpoint represented in the user's expression or another person's expression; or
a user's geographic location in Texas or any part of Texas
This applies only to expression protected by the First Amendment; in other words, social media websites can still censor speech that they are required to censor by federal law. But as we all know, the First Amendment is far less restrictive than the content moderation rules set forth in virtually every social media website's TOS; protecting hateful viewpoints, vulgar language, pornography, and more.
As soon as House Bill 20 became law, lobbyists for the tech industry (NetChoice) immediately filed suit, and the U.S. District Court for the Western District of Texas preliminarily enjoined its enforcement. Texas appealed, and after oral argument, the Fifth Circuit stayed the injunction without releasing an opinion. NetChoice then appealed to the U.S. Supreme Court.
On May 31st, 2022, the U.S. Supreme Court
vacated the stay in a 5-4 vote
and granted NetChoice's request to block the Texan law—for now. Justice Alito, joined by Justices Thomas and Gorsuch, filed a short six-page dissent; whilst reiterating that he had "not formed a definitive view on the novel legal questions" posted by House Bill 20. Justice Kagan also indicated that she would have upheld the Fifth Circuit's stay, but declined to join Alito's dissent.
The Summary
The First Amendment prevents state actors from proscribing speech. Social media platforms are not state actors, so they do not infringe on the First Amendment when they censor users. But can states separately regulate social media platforms by explicitly preventing them from censoring their users?
NetChoice says no; because corporations have First Amendment rights, Twitter and Meta has a First Amendment right to editorial discretion, so they can censor content on their websites as they see fit. Texas says yes, arguing that the historical text and tradition of the First Amendment does not support a "right to censor", and that House Bill 20 regulates not the platforms' speech, but their conduct.
That the Fifth Circuit ruled in favor of Texas yesterday was no significant surprise considering that the Fifth Circuit stayed the district court's injunction after oral argument. The significance is the scope and forcefulness of Judge Oldham's opinion:
The implications of the platforms' argument are staggering. On the platforms' view, email providers, mobile phone companies, and banks could cancel the accounts of anyone who sends an email, makes a phone call, or spends money in support of a disfavored political party, candidate, or business. What's worse, the platforms argue that a business can acquire a dominant market position by holding itself out as open to everyone—as Twitter did in championing itself as "the free speech wing of the free speech party." Blue Br. at 6 & n.4. Then, having cemented itself as the monopolist of "the modern public square," Packingham v. North Carolina, 137 S. Ct. 1730, 1737 (2017), Twitter unapologetically argues that it could turn around and ban all pro-LGBT speech for no other reason than its employees want to pick on members of that community.

Today we reject the idea that corporations have a freewheeling First Amendment right to censor what people say. Because the district court held otherwise, we reverse its injunction and remand for further proceedings.
From Judge Edith Jones' concurrence:
In particular, it is ludicrous to assert, as NetChoice does, that in forbidding the covered platforms from exercising viewpoint-based "censorship," the platforms' "own speech" is curtailed. But for their advertising such "censorship"—or for the censored parties' voicing their suspicions about such actions—no one would know about the goals of their algorithmic magic. It is hard to construe as "speech" what the speaker never says, or when it acts so vaguely as to be incomprehensible.
Notes
Oldham before the Senate Judiciary Committee
Some background on Judge Oldham: The Fifth Circuit is undeniably the most conservative of the 13 federal appeals courts in the United States. Of the 16 active judges on its bench; 12 are Republican appointees. And Judge Oldham is one of the most conservative judges on the Fifth Circuit. A graduate of Cambridge University and Harvard Law School, Oldham clerked for Justice Alito before working for the Texas Solicitor General's Office. In 2013, Oldham filed an amicus brief arguing that the U.S. Supreme Court should invalidate part of the Voting Rights Act, which the Court eventually did in
Shelby County v. Holder.
Later on, he also drafted arguments in favor of abortion restrictions in
Whole Women's Health v. Hellerstedt
(2016) (overturned by
Dobbs
); against environmental regulations in
Utility Air Regulatory Group v. EPA
(2014); and more.
So there's no question that Oldham carries consistently conservative positions; and aged just 39 when Trump nominated him to the federal bench, Judge Oldham could very well "own the libs" for over four decades.
Whilst the idea of having conservative states force Reddit and Twitter to host misogynistic speech is deliciously tempting and mildly based, I do think Judge Oldham left more questions than answers over his analyses of both the compelled speech doctrine and the overbreadth doctrine of the First Amendment. But that's probably best left for a discussion another day.
In any case, NetChoice will probably appeal the Fifth Circuit's decision to the U.S. Supreme Court; and given that the Eleventh Circuit reached the opposite conclusion when blocking a similar Florida law, creating a circuit split, the Supremes will most likely grant certiorari. See
NetChoice v. Moody
(11th Cir. 2021). It's difficult to tell how the highest court will decide to untangle the many technical questions involved in this case, or even how individual justices would rule. What is sure, though, is that the instant case is likely to influence the internet more than any other since
Reno v. American Civil Liberties Union
(1997).
Last edited: