PPEcel
0/10 truecel
★★★★★
Joined

Oct 1, 2018
Posts

24,507
Online

185d 16h 22m
Previous thread for September/October 2021 can be viewed
here
.
Background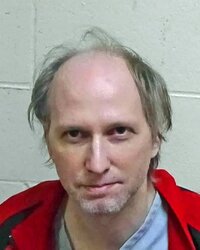 Nathan Daniel Larson (
@Leucosticte
), a father, former husband, congressional candidate, ex-convict, and banned .is member, was arrested in December 2020 after allegedly flying from his home in Virginia to kidnap a 12-year-old Californian girl.
Larson was indicted on five federal charges related to this incident. If convicted on all counts, he would face a maximum of three life sentences plus fifty years.
Recent developments
Larson has been transferred from the federal Bureau of Prisons' (BOP) custody
A court-ordered mental health evaluation of Nathan Larson was completed earlier last month after months of delays. He was transferred to MDC Los Angeles in June 2021 for the evaluation.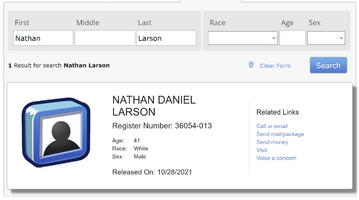 Larson's next status hearing is scheduled for November 19th, 2021
The outcome of the hearing hinges on the result of the BOP's evaluation. The U.S. Attorney's Office questions Larson's ability to competently assist in his defense, whilst Larson's attorney notified the court of his intent to pursue an insanity defense under Fed R. Crim P. 12.2.
Larson's father, Arthur Larson, passed away
Shortly after Nathan Larson was arrested in Denver Airport in December 2020, federal agents from Homeland Security Investigations (HSI) raided the Larsons' home in Virginia to execute a search warrant on Larson's devices. Arthur Larson was arrested and later released for allegedly assaulting an HSI Agent during the search.
The elder Larson died from complications from MS last month at the age of 70
. (Eurocels may need a VPN)
@-BrettyBoy-
@Zer0/∞
@refmd
@Azaylias
@Mogged Loner
@BlkPillPres
L

@Linesnap99
@IncelGolem
@Arthas93
@notafed
@Honeypot