InMemoriam
Secret Schizoid
★★★★
Joined

Feb 19, 2022
Posts

2,834
Online

43d 12h 9m
What Causes Hair Loss? Skull Bone Growth​
By Paul Taylor​
Skull Shapes That WILL Cause Hair Loss

​

Both the shape and size of your head are, quite obviously,

determined by the bones of your skull

. And, as you're about to find out,

some skull shapes will lead to hair loss, while others won't.

Take a look at the photos below. You can see that all these men have gone bald following severe hair loss from androgenetic alopecia.

And you can also see that they share a very similar skull shape. They all seem to have a very round skull, giving a rather domed shape to the head, especially when viewed from the front or back. That curvature is what causes hair loss of this type.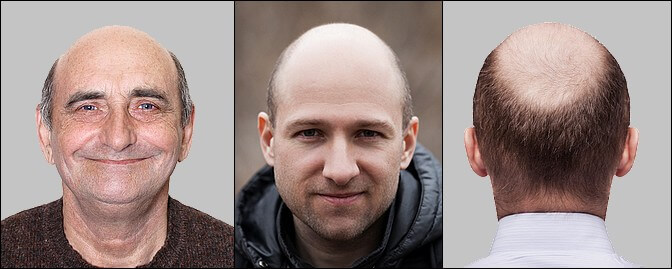 Skull Shapes That WON'T Cause Hair Loss

​If you now take a look at the photos below, you can see that these people appear to have suffered no hair loss whatsoever.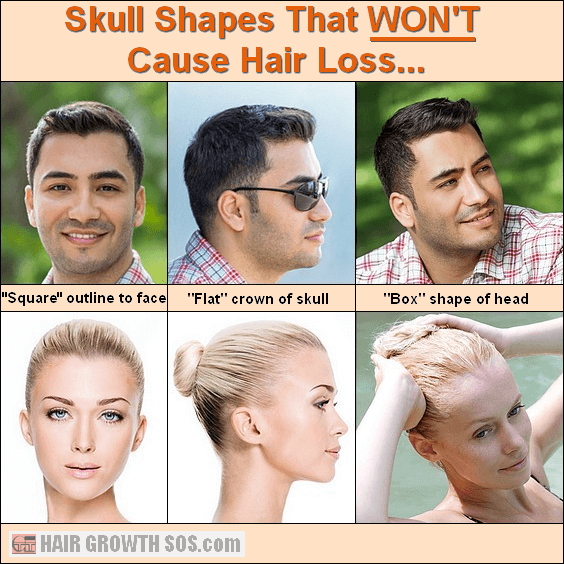 That's because all these men and women have a very flat broad forehead and flat crown to the skull. And this gives a distinctive "square" outline to the face, and "box" shape to the head, as you can see.
These features are nearly always present in people who maintain a full head of hair for life.
So, whether or not you develop skull expansion and hair loss all depends on the
shape
your skull.
How Skull Expansion Causes Hair Loss

​

It's quite easy to see how skull expansion causes hair loss if you take a close look at the blood supply to the scalp.

The diagram below shows just the main arterial network of the scalp. These arteries then branch out into smaller arterioles and finally capillaries (not shown in the diagram). And this capillary network then provides hair follicles with the blood and, therein, nutrients it needs to grow hair.
The blood pressure and flow rate within large blood vessels will obviously be much greater than it is within tiny capillaries.
And, as you can see, these larger blood vessels are a lot closer to hair follicles on the sides of the head than they are to hair follicles higher up on the crown.
So this means that blood pressure and flow rate within capillaries on the sides of the head (where hair grows well) will be slightly higher than it is within capillaries on the crown of the head (where hair loss develops).
Hair growth is very rapid (about 2.5 mm per week), and there's also a greater density of hair on the scalp than anywhere else on the body. So, clearly scalp hair needs a regular supply of nutrients if it is to grow well.
In this diagram you can see that only a single capillary serves each hair root. And because each capillary is just one cell wide, blood can only supply each hair root one blood cell at a time.
So, from this low blood flow rate through each capillary, together with the relatively high demand for nutrients by hair follicles, you can appreciate how scalp hair growth could easily begin to suffer should there be any interruption in the blood supply.
And that's exactly what skull expansion does.
Skull expansion will cause the surface area of certain skull bones to increase. This will progressively stretch and pull tight the scalp tissue which overlies the skull. And this increase in scalp tension can also quite often make the scalp feel very itchy and tight.
This disrupts the microvascular blood supply (the capillary network) to the hair follicles. Blood flow is reduced and so the supply of nutrients to the hair follicles decreases.
In time, this causes hair follicle miniaturization. Thinner, weaker hair growth then follows and hair loss develops.
His study
:
Big head? Bald head! Skull expansion: alternative model for the primary mechanism of AGA

​
Summary

​

Currently, the predominant hypothesis explains

androgenetic alopecia

(AGA) as a process reliant upon affected follicles being individually programmed to accumulate

dihydrotestosterone

(DHT), which then causes progressive follicular miniaturisation. The goal of this paper is to suggest that such miniaturisation may result from an exaggeration of the

bone remodelling

process causing a reduction in blood supply to the

capillary network

within the affected region.

The bones of the human skull continue to grow during adulthood and observations made of those with AGA suggest that such growth may be responsible for the development of this condition. Studies of human cranial anatomy indicate that frontal and parietal bone growth can account for the development of the male pattern

baldness

(MPB) profile and the variations that can occur in the rate and location of hair loss.

Steroid hormones

such as DHT promote facial and body hair growth. Logically, this suggests that DHT should stimulate hair growth within the MPB region and not hair loss. However, DHT also has an anabolic effect on bone formation, and it is hypothesised that this stimulation of bone growth will overwhelm the hair growth promoting effects of DHT.

Androgen receptor

sites, 5-alpha-reductase (5α-R) and DHT have all been associated with AGA, but they also exist within numerous types of bone cells. DHT will stimulate the proliferation of

osteoblast

cells and the formation of new bone.

Verification of this hypothesis would imply that DHT is primarily involved with AGA through its stimulation of the skull expansion process rather than through interaction with individual follicles. Also, increased androgen receptor gene expression, 5α-R activity and subsequent production of DHT within the MPB region of balding individuals, may simply represent the body's attempt to compensate for the skull expansion expression of

hair follicle

miniaturisation. Furthermore, it suggests that MPB region follicles are not individually programmed for hair loss. A redirection of genetic research towards the identification of those genes responsible for skull shape and development would be appropriate, and may reveal the genetic connection to AGA including its paternal link.
TL;DR having a ''doomed'' skull shape is clearly a thing and you're much more likely to develop skull expansion thus baldness beyond brutal for baldcels myself included​