PPEcel
Brian Laundrie for the U.S. Supreme Court
★★★★★
Joined

Oct 1, 2018
Posts

23,399
Online

171d 14h 46m
From the
U.S. Department of Justice's press release
:
Nicole Poole Franklin, 42, was sentenced by U.S. District Judge Stephanie M. Rose to 304 months in federal prison on each count, with the sentences to run concurrently to each other and concurrent to the sentence imposed in the related state court case. Poole Franklin previously pleaded guilty in federal court on April 22, to two counts of hate crime acts.
On the afternoon of Dec. 9, 2019, Poole Franklin was driving her Jeep Grand Cherokee on Creston Avenue in Des Moines, Iowa, where the first child-victim was walking along the sidewalk with another minor family member. Upon seeing the children and believing that the victim was of Middle Eastern or African descent, Poole Franklin drove her vehicle over the curb towards both children, striking one of them. Poole Franklin then drove away from the scene. The assault resulted in injury to the victim, including cuts, bruising, and swelling.
Approximately 30 minutes later, Poole Franklin was driving her Jeep near Indian Hills Junior High School in Clive, Iowa, where the second child-victim was walking on the sidewalk. Poole Franklin, believing that the child was Mexican, drove her vehicle over the curb and struck the victim, causing serious injury, including a concussion, bruises, and cuts. Poole Franklin again drove away from the scene but was apprehended later that day.
Hmm. Why did this member of le empathetico genderino commit such a heinous crime?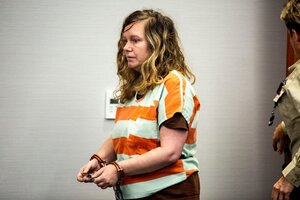 The
U.S. government's sentencing memorandum
has some answers.
When questioned by law enforcement several days later, Poole Franklin stated she saw the female minor victim walking on the sidewalk, and decided to run the minor over because she was Hispanic, was "takin' over . . . our homes, and our jobs" and "wasn't supposed to be in the country." In reference to the 12 year old boy, Poole Franklin stated she ran him over because "he's just like ISIS," and "he's not supposed to be there and he's going to take me out."
Yikes! Sounds like she has a great personality.
Well, what does her personal life look like? Well, the
defense's sentencing memorandum
references her extremely detailed criminal and relationship history.
In-between her initial probation revocation and subsequent parole revocation terms of imprisonment on the theft case, Ms. Poole Franklin had her first child...She eventually lost her rights to her child due to her erratic behaviors and use of methamphetamine.
While on probation, she was using marijuana and methamphetamine, drinking, and not attending treatment as directed, all of which further culminated in convictions for simple harassment and disorderly conduct for stabbing her paramour
She started a new relationship in 2018 that led to marriage in 2019, but she and her husband soon separated after an incident where she bit her husband, brandished a knife, and repeatedly said she would kill him
Remember, sweaty, only femoids can be victims of domestic abuse!
Federal sentencing guidelines, in fact, recommended a 30-year sentence. Though the prosecutors and the defense struck a plea agreement for 27 years, the judge erred on the side of leniency and sentenced her to 25 years and 4 months.
But what's even more revealing is how little attention this case is getting from the usual crowd of SJWs. If it were not for my subscription to the DOJ's email alerts, I wouldn't have learnt about it.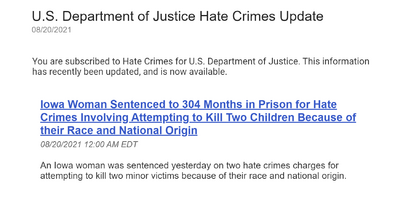 Let us envision another situation. Suppose a conventionally unattractive man runs over two teenage girls with his car. When asked why he did it, he says "well, they're pretty girls". The Redditverse would no doubt erupt in anger and righteous indignation, describe it as "terrorism", make hundreds if not thousands of posts, make crude prison rape jokes, ask for the death penalty, and request that governments curtail online freedom of expression.
But a white femoid with a rap sheet rivalling that of the most hardened of gangbangers decides to hit two ethnics with her car? Well, I guess it's a non-issue. M'lady was just mentally ill!