PPEcel
truecel, studentcel, 21
★★★★★
Joined

Oct 1, 2018
Posts

22,932
Online

165d 5h 14m
TL/DR:
A senior FBI official was told directly by a high-ranking member of USA Gymnastics that one of their employees had sexually abused hundreds of femoids. The FBI basically did fuck all with this information for over a year, and during that year, said employee (Nassar) kept fondling his femoid patients. Only when MSU PD found child pornography on Nassar did the feds finally step in so they could take over this aspect of the case. When the feds were asked why it took them so long, they initially investigated themselves and cleared themselves of any wrongdoing. When the Department of Justice's Office of the Inspector General finally stepped in and asked the FBIcels why they screwed up, many of them just straight up lied or refused to talk.
Here's the point of this post:
CuckTears, do you really think flooding the FBI tip line or throwing Reddit tantrums is going to make this site and other incel forums disappear? You realize the federal bureaucracy involves so many additional layers of red tape than is portrayed on your favourite TV show, right? What makes you think they're going to waste their energy just to "scare" an edgy teenager from engaging in constitutionally protected speech on this forum...when they can't even be bothered to apprehend serial rapists swiftly?
Anyways, here's the full story.
A list of abbreviations used below is appended here.
ASAC: Assistant Special Agent in Charge
AUSA: Assistant United States Attorney
DOJ: U.S. Department of Justice
DOJ-OIG: Office of the Inspector General for the U.S. Department of Justice
FBI CID: FBI Criminal Investigative Division
MSU: Michigan State University
MSU PD: Michigan State University Police Department
OPA: Office of Public Affairs
RAC: Resident Agent in Charge
SA: Special Agent
SAC: Special Agent in Charge
SENTINEL: the FBI's electronic case management system
SSA: Supervisory Special Agent
USAO-SDIN: U.S. Attorney's Office for the Southern District of Indiana
USAO-WDMI: U.S. Attorney's Office for the Western District of Michigan
USOC: U.S. Olympic Committee
USP: United States Penitentiary (a high-security federal prison)
VCAC: Violent Crimes Against Children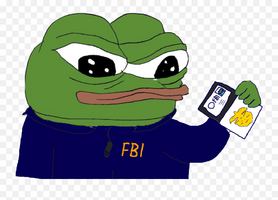 ________________________________________________________________________________________________________________________________
Background
Lawrence "Larry" Gerard Nassar is an American doctor who was accused of, and later admitted to, sexually abusing hundreds of femoids in his position at MSU and as a team doctor for USA Gymnastics. Nassar is currently serving a 60-year federal sentence at USP Coleman II. He also faces an additional 40 to 175 years in Michigan state prisons.
Report findings
The DOJ-OIG published its findings into the FBI's handling of the Nassar allegations this past week.
You can read the full report here.
It makes for cosy bedtime reading.
Timeline:

July 2015:
USA Gymnastics officials including CEO Stephen D. Penny, Jr. ("Penny") meet with SAC W. Jay Abbott of the FBI Indianapolis Field Office. The Indianapolis ASAC and an Indianapolis SSA leading the VCAC squad also attended the meeting. USA Gymnastics alleges that Nassar sexually abused femoids under his care over a period of over 20 years.
September 2015:
The Indianapolis SSA who attended the July meeting discusses the Nassar allegations with an AUSA from USAO-SDIN and an SSA from the FBI Detroit Field Office. They conclude that there is no venue for any of the allegations in Indiana, and that the allegations may not support federal jurisdiction. Later, Indianapolis SAC Abbott emails Penny and copies Indianapolis ASAC and SSA to say that the case information has been transferred to the FBI Detroit Field Office, the FBI Lansing Resident Agency, and USAO-WDMI. However, the FBI Lansing RAC, FBI Detroit SAC, and FBI Detroit ASAC later state that none of their offices were informed of the Nassar allegations in September 2015. Nor are state or local authorities in Walker County, Texas, notified of the allegations, despite the FBI's knowledge that many of the abuses occurred at Karolyi Ranch.
October 2015:
Presenting a conflict of interest, Penny and SAC Abbott meet at a bar and discuss a potential job opportunity for Abbott as the next Chief Security Officer for the USOC.
May 2016:
USA Gymnastics officials approach the FBI Los Angeles Field Office with similar allegations of Nassar's behaviour. Despite previous activity by FBI Indianapolis, FBI Los Angeles are unable to find any records regarding Nassar in SENTINEL. FBI Los Angeles begins its own investigation into Nassar, but still does not inform any state or local authorities. At this point, Nassar is still employed as the USA Gymnastics team doctor and with MSU.
August/September 2016:
A gymnast submits a complaint to the MSU PD alleging that Nassar assaulted her when she was 16. The Indianapolis Star publishes details of additional allegations made by other gymnasts. From there, several dozen femoids make similar allegations against Nassar to the MSU PD, dating back to the 1990s. MSU PD executes a search warrant at Nassar's residence and finds over 37,000 images of child pornography. The FBI Lansing Resident Agency takes over the child pornography investigation. Nassar is dismissed from his positions with MSU and USA Gymnastics.
November 2016:
Nassar is arrested by MSU PD and released on bond.
December 2016:
Nassar is arrested by the FBI.
The DOJ-OIG's report says that over 70 identified femoids were sexually assaulted by Nassar in the time period between July 2015 and August 2016, the youngest of which was 8 years old. However, a lawyer representing many of the femoids says that the true number of victims in this time period alone could be as high as 120.
Aftermath
Over 2017 and 2018, reporters at the Indianapolis Star, the Wall Street Journal, the New York Times, and PBS notice the lengthy discrepancy between the date the allegations were reported to the FBI and the date of Nassar's arrest. FBI officials have an internal discussion regarding an electronic communication drafted by the Indianapolis SSA who claims he submitted a case report (FD-71) to the FBI Lansing Resident Agency. No such report can be found anywhere, nor was mentioned by anyone except the Indianapolis SSA. The FBI CID drafts a white paper, with the assistance of the FBI Indianapolis ASAC, into their own handling of the Nassar allegations. It is poorly written and contains multiple inaccuracies.
Over the course of the scandal, Indianapolis SAC Abbott remains in constant email communication with Penny about the Nassar allegations and about the job opportunity. Abbott also discusses how he could direct the FBI Indianapolis' OPA's press releases on the matter, such that they paint USA Gymnastics in a favourable light. Abbott retires from the FBI in 2017, applies for but is not given the job with the USOC.
The FBI's Inspection Division begins an investigation into the FBI's handling of the Nassar allegations, followed shortly by the DOJ-OIG. Over the course of these investigations, retired Indianapolis SAC Abbott and the Indianapolis SSA repeatedly make false statements. Abbott in particular denies applying to the USOC job despite evidence to the contrary that he did so. Several other FBI agents declined voluntary interviews and were only interviewed after the DOJ issued subpoenas.
In May 2021, the DOJ declined to criminally charge retired Indianapolis SAC Abbott or the Indianapolis SSA for making false statements.
Extremely based.