InMemoriam
Secret Schizoid
★★★★
Joined

Feb 19, 2022
Posts

2,834
Online

43d 12h 9m
Typical male brain anatomy associated with higher probability of autism spectrum disorder
8 February 2017
​
A study of high-functioning adults with autism spectrum disorder (ASD) suggests that characteristically male brain anatomy was associated with increased probability of ASD, according to a now retracted article published online by JAMA Psychiatry.
here is the notice of retraction! obviously the article findings were considered sufficiently controversial that they had to edit it out and retract the original investigation and issue new different releases to provide non problematic conclusion (unironically!)


The original conclusion
:
''Our findings suggest that the neurobiological male phenotype carries a higher intrinsic risk for ASD than the female phenotype across the binary categories dictated by biological sex. In addition to genetic and environmental factors, normative sex-related phenotypic diversity should thus be taken into account when determining an individual's probability of ASD. Therefore, our approach to modeling normative sex-related phenotypic diversity may be more widely used in the future to elucidate the neurobiologicalmechanisms that underpin risk and resilience for mental health disorders.
''
The now edited conclusion
:
''
Our findings highlight the need for considering normative sex-related phenotypic diversity when determining an individual's risk of ASD, and provide important novel insights into the neurobiological mechanisms mediating sex-differences in ASD prevalence.''
Anyway, excuse my paranoia can't help it i'm schizoid after all

lets get back to the study . . .
ASD is a neurodevelopmental condition that is more common in males then females. Christine Ecker, Ph.D., of Goethe University, Frankfurt, Germany, and coauthors examined the probability of ASD as a function of sex-related variation in brain anatomy.
The study included 98 right-handed, highfunctioning adults with ASD and 98 neurotypical adults (ages 18 to 42 years) for comparison. Imaging and statistical analysis were used to assess ASD probability.
The study based its analysis on cortical thickness in the brain because that can vary between males and females and be altered in people with ASD:
Ecker hypothesized that one reason autism is so closely associated with men is that it tends to correlate with certain brain characteristics typically found in males.
Her study seemed to confirm that hypothesis: females with more typically "male" brains – measured by their cortical thickness, a difference
widely known
to be sex-based – were five times more likely to have autism than women with more typically "female" brains.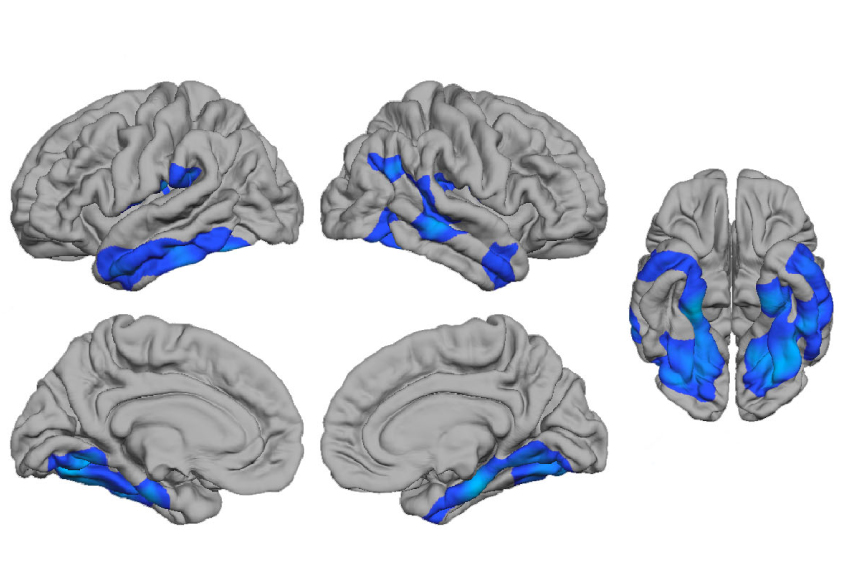 The thickness of a number of brain areas distinguishes women with autism from those without the condition.
Machine learning

:

​
Ecker and her team used magnetic resonance imaging to measure the thickness of the cerebral cortex, which coordinates higher-order cognitive functions. Previous studies have suggested that the cortex is thinner in people with autism than in people without the condition.
The researchers scanned the brains of 51 men and 47 women without autism, measuring the thickness of roughly 320,000 locations of the cortex. They then used a computer algorithm to ferret out a combination of regions for which differences in cortical thickness are most likely to differentiate men from women.
The algorithm, which involves machine learning, found a pattern of thickness that typifies a female brain, and assigned it a score of 0; it assigned a score of 1 to a pattern that is most predictive of a male brain. The algorithm then scored the cortical thickness patterns of each brain in the study relative to these idealized ones.
The researchers found that the majority of typical women score between 0 and 0.5 on this scale, and the majority of typical men between 0.5 and 1. Many men and women have scores that fall between 0.4 to 0.6, however, suggesting that all brains fall along a spectrum ranging from especially male to especially female.
Ranking brains along a scale rather than placing them into a male or female category is "an advance in the right direction," says Daphna Joel
, professor of psychology and neuroscience at Tel Aviv University in Israel.
But referring to a 'male' or 'female' brain is still problematic.
Risk shift:

​
The researchers then used the same measure to categorize the brains of 49 men and 49 women with autism.
They found that 39 of the women fall into the male range of the scale.

Women in the study who scored in the male range are three times as likely as those in the female range to have autism.
By contrast, men who score in the female range are 1.2 times less likely to have autism than those who score in the male range.
The authors report characteristically male anatomy of the brain was associated with a higher probability of risk for ASD than characteristically female brain anatomy. For example, biological
females with more typical male brain anatomy were about three times more likely to have ASD than biological females with characteristically female brain anatomy.
''Our study demonstrates that normative sex-related phenotypic diversity in brain structure affects the prevalence of ASD in addition to biological sex alone, with male neuroanatomical characteristics carrying a higher intrinsic risk for ASD than female characteristics''
TL;DR? : If you are an autisticel i suggest you read the whole damn thing; and do your own research, this is some serious shit what if you ended up betabuxing one day (and its more likely you'll be buxxing a women on the spectrum). you might as well be doing a dude idk