PPEcel
0/10 truecel
★★★★★
Joined

Oct 1, 2018
Posts

24,421
Online

184d 10h 8m
Background
Already covered in previous threads so here is a summary.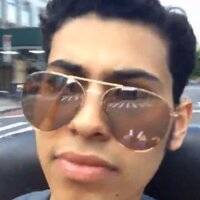 While livestreaming back in February 2021, a self-identified incel, 19-year-old Malik "Smooth" Sanchez randomly approached two femoids who were dining in the outdoor seating area of a New York City restaurant and allegedly said, "
Allahu Akbar. Allahu Akbar. Bomb detonation in two, in two minutes. I take you with me and I kill all you. I kill all you right now. And I kill all you for Allah.
" This livestream is still available on YouTube and the incident begins at time mark 3:26:30.
Sanchez was arrested by the FBI's New York JTTF in April 2021, charged, and indicted on one count of "false information and hoaxes" concerning an act of terrorism under
18 U.S.C. § 1038(a)(1)
. The maximum sentence is five years' imprisonment. He is denied bail by the magistrate judge at the request of the prosecutor.
However, Sanchez's public defender appealed the detention order to the district judge under the Eighth Amendment's Excessive Bail Clause. Assistant U.S. Attorney Kaylan Lasky counter-argued that Sanchez should remain detained pending trial as his connection to incels constituted a danger to the community, but Judge Colleen McMahon thankfully rejected such an absurd argument and granted Sanchez bail, subject to location monitoring and internet access restrictions.
Latest information
This letter and order were filed in court yesterday.
Like the vast majority of federal criminal cases, it appears this most likely end in a plea agreement.
Per federal sentencing guidelines, I would say there is a decent chance that Sanchez avoids jail time and receives probation with home detention instead. What I'm looking forward to is seeing whether federal prosecutors will dramatize Sanchez's connection to, and provide a hyperbolic description of, the incel community in their sentencing memorandum.
Miscellaneous
Tagging interested people:
@inkwellmaxxed
@Copexodius Maximus
@Mecoja
@Robtical
@Transcended Trucel
L

@Linesnap99
@SelfCrucified
@Caesercel
@BPJ
@Zer0/∞
@MarquisDeSade
@erenyeager
@0Energy0Happyness
@mNFwTJ3wz9
@Master
@Italian Incel
@Arabcel9
@ordinaryotaku
@Emba
@the virgin shepherd
Also related thread:
View: https://www.reddit.com/r/PublicFreakout/comments/pl2d7y/toxic_influencer_smooth_sanchez_used_to_harass/