bonesmashing
There's no inhib-level for your face.
★★★
Joined

Oct 2, 2021
Posts

275
Online

2d 7h 40m
I discovered this from bluepilled years thinking clothes would help or "ascend" me somehow. What did I figure out? Basically that clothes are -- on average -- NOT for incel men in almost any caliber. "Fashion" isn't FOR US!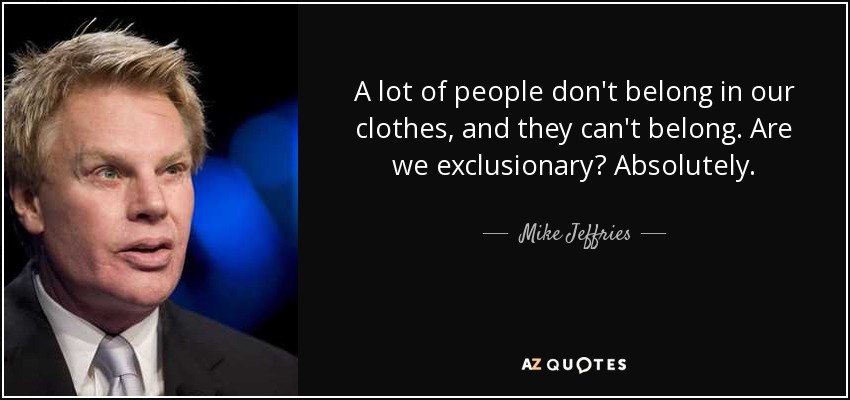 Notice something? The brand/founder dude is nicely saying, "We are not for ugly people who are too far from the objective line of ideal beauty standards." It's a nice, underhanded way to say only the best are geared for looking good fashion-wise. Instead of worrying about fashion ascending you, it's you who ascends the fashion AKA you fill the clothes in; your face is the apex of the look; your frame is what stretches the material; your muscles "squeeze" the clothes/shape/contour them, etc. YOU'D HELP (or HURT) the clothing brands, not the other way around.

As a guy who is not that tall but not necessarily a huge framecel either I STILL DISCOVERED THE "CLOTHESPILL" AKA that most sizes, fits, jeans, etc. ARE NOT FOR MANELTS OR SUB 6 FRAMECELS PERIOD. Most long-sleeve shirts? Too long since I'm not tall. Most jeans? Too long since I don't have long legs (AKA NOT TALL).

As a guy I navigated years through clothes coping, and it got me nowhere except to witness blackpills. MOST CLOTHES FOR MEN ARE MADE IN THE IMAGE OF BIGGER MEN. Go and look at some casual, normie/regular clothing store/online shop/etc. for some clothes you like. Want to bet that -- assuming you aren't some tallfag/tallcel -- the shirts will either be too long if long-sleeved; the pants will average larger than your leg length if you're like 5'7" to 5'10" max; and jackets, wrist wear/watches, etc. will seem too big because you aren't some broad, 6'1" Chad that these brands seem to think every man looks like. Ever seen jeans commercials for guys? What do they look like in those, you think? A bunch of 5'9", 180 lb. bald guys? No, 6'+, 6+ faced guys masc. guys with 20+ inch bideltoid only.

In fact the popularity of "big and tall" clothing for big men being way more popular than clothing for "short and stumpy" proves big brands tailor to elite males more often than just tailoring to the average, nearcel-tier looking guys you come across IRL/on the street. Do you see manlet-oriented brands? No, but TALL GUY brands exist!
All shirts -- often either too big expecting lots of space to be filled out usually (for more muscle, frame/width, specific insertions, etc.), or sleeves too long AKA for longer arms. Who has bigger arms? Usually bigger, taller, more elite men.

Pants -- often too long and hard to find great fitting lengths because I'm 5'10" barely, not some 6'1" tallfag with an extra 1-2 inches of leg at the very least in comparison. From my view jeans/pants/etc. are NOT for manlets on purpose.

Accessories -- often for bigger wrists (framepill) like with watches, wristbands and so on. So many other little things often scream blackpill too -- hat sizes, sunglasses (on a horseface/narrow-faced guy sunglasses look comical because they can be way too wide for your narrow-ass, zygo/maxilla lacking face and skull period). Look at fashion memes with incel-looking guys to get an idea.
Basically the "clothespill" blackpill just encompasses multiple pills in one: framepill, heightpill, skullpill, facepill, etc. IOW, clothing brands usually DO NOT target the every day man so much as the ideal image of what the every day man IS EXPECTED to be. Basically -- as a man (incel) -- look at how the world is "designed" around you. Are you kept out? Obviously. Are you noticing things "not made" or "not meant" for you? Duh.
Fashion's just another blackpill.
Last edited: