7Hopeless7
24 year old khv
★★★
Joined

Feb 16, 2021
Posts

259
Online

12d 6h 17m
INTRODUCTION
The average BPEL of penis in every research has always been between 5-6 inches, tending more towards 6 inches. And dicklet copers always use examples of research where they ask women to choose their ideal size by using plastic models and they on an average end up choosing the 6ish inches long one. And 6 inch BPEL copers think that's enough and they're in the safe zone. And now I'm gonna prove them wrong.
TLDR; you need atleast 6.8 to 7.5 inches (depending on your fat pad) to be considered "big" by foids
Let me start off by specifying few terms which are relevant to this post.
What is BPEL?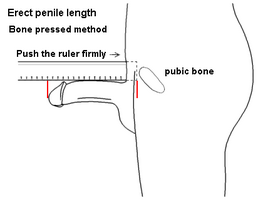 BPEL or bone pressed erect length is the measured length of your dick when you stick your scale on your pubic bone. Most researchers prefer this length because the visible NBPEL can vary according to the size of your fat pad.


What is fat pad?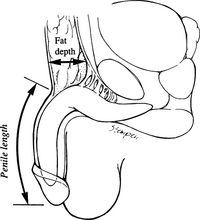 Fat pad is the fat in front of your pubic bone. It's responsible for determining your NBPEL or visible length. On an average the fat pad takes up 0.5 to 1.5 inches of your BPEL depending on your body fat percentage.

AND NOW HERE'S THE KICKER: WE USE ONLY OUR NBPEL DURING SEX

Below is the x-ray of two people having sex

AND NOW HERE'S THE KICKER: WE USE ONLY OUR NBPEL DURING SEX

Below is the x-ray of two people having sex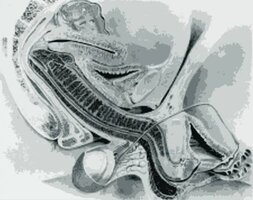 As you can see here how he's only able to us his NBPEL only. Here's another example but in motion:


Notice how he's barely able to use his visible length. And this is the case with every possible sex position.

So when the foids select their prefer length, they basically select the visible length/NBPEL not the aspie BPEL.

What is the acceptable size then?

Well, according to this research:

Women's preferences for penis size may affect men's comfort with their own bodies and may have implications for sexual health. Studies of women's penis size preferences typically have relied on their abstract ratings or selecting ...
www.ncbi.nlm.nih.gov


"Women preferred a penis of slightly larger circumference and length for one-time (length = 6.4 inches/16.3 cm, circumference = 5.0 inches/12.7 cm) versus long-term (length = 6.3 inches/16.0 cm, circumference = 4.8 inches/12.2 cm) sexual partners. These first estimates of erect penis size preferences using 3D models suggest women accurately recall size and prefer penises only slightly larger than average."
This means the visible length of one's penis should be atleast 6.3 inches and BPEL doesn't mean shit. So either lose your weight or start hanging shit from your penis