PPEcel
RIP Saint Brian Laundrie (1997-2021)
★★★★★
Joined

Oct 1, 2018
Posts

23,558
Online

173d 10h 53m
Some older UKcels might have heard of Jean Charles de Menezes. Some youngcels and nonUKcels probably haven't. Anyways, here's what happened.
The Shooting
Just two weeks after the 7/7 attacks that killed 52 normies, and one day after a failed suicide bombing, on 22nd July 2005, a Brazilian electrician left an apartment building that was being surveilled by the Metropolitan Police. Due to a series of police errors, they misidentified him as Osman Hussain, one of the terrorists.
The police followed Menezes as he boarded a bus and alighted at a stop adjacent to Brixton tube station, but since Brixton station was closed due to the failed bombings the day before, Menezes quickly reboarded the same bus. At that moment, the police concluded it was an anti-surveillance tactic and was convinced Menezes was a terrorist. The Gold Commander ordered specialist firearms officers (SO19) to intercept Menezes before he entered Stockwell tube station.
Menezes entered the station and boarded the train. Three firearms officers pinned him down, and then two of them discharged their weapons and promptly murdered him.
An eyewitness later said that the eleven shots were fired over a thirty-second period, at three-second intervals. Hollow-point bullets had been employed and a senior police source said that Menezes's body had been "unrecognisable".
The officers claimed they shouted "police" shortly before they shot Menezes. However, not one of 17 witnesses later recalled them doing so.
The Aftermath
Of course, what happened after the shooting was almost as disturbing as what happened during it. It was quickly apparent that they had shot an innocent man, so the Metropolitan Police immediately released statements suggesting that Menezes had "vaulted" over the ticket barriers and was wearing a bulky jacket (in July); neither was in fact true and would be later disproved.
The IPCC (Independent Police Complaints Commission) took over the inquiry and, and its conclusion, handed to the CPS (Crown Prosecution Service) a list of potential offences that the police might have committed. The IPCC also concluded that the police made misleading and inaccurate statements in the week after the shooting. At a coroner's inquest, a police officer admitted that he had deleted a computer record of the Gold Commander's instruction that they could allow Menezes to "run on to Tube as [he was] not carrying anything".
The CPS concluded that there was insufficient evidence to convict any individual officers in an individual capacity, though the Metropolitan Police as a whole was fined for failing to safeguard the "welfare and safety" of Menezes.
In 2009, the Menezes family settled with the Metropolitan Police for a sum of just over £100,000, which, quite frankly, is an insult. But then again, he was poor, ethnic, and male, and society doesn't give a fuck about poor ethnic males.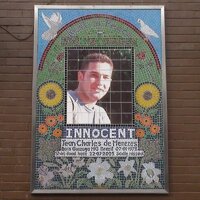 The Commander
Of course, the Gold Commander in charge of the clusterfuck was none other than Cressida Dick, who is now the current Commissioner of the Metropolitan Police. She was in fact promoted to Deputy Assistant Commissioner just one year after the shooting, and several times after that.
You would think that being the first female lesbian to lead the Met Police would make Dick popular amongst feminists. Well, perhaps she was.
But earlier this year, Sarah Everard was murdered by an off-duty police officer. The police moved in to break up a vigil held for Everard, citing COVID restrictions on public gatherings. SJWs of all stripes asked for Dick's resignation; but then again, if killing an innocent man by literally shooting him 7 times doesn't derail your career, almost nothing will.
Other highlights of Dick's career include
the Daniel Morgan murder and corruption inquiry
, where Dick was scrutinized for withholding and delaying access to evidence, and Operation Midland, which saw the Met spend £2.5M
investigating a VIP paedophile ring that didn't exist
.
And now she's reportedly seeking a second term.